June 7, 2011
Remembering to Remember
Publisher's Note: "New York attorney and regular ARTES contributor, Linda Y. Peng shared with me a remarkable story about her recently-deceased uncle. With so much emphasis focused on China's role as a growing economic power, together with the rapidly emerging market for Chinese art on the international stage, it is important, at times, to set aside our concerns and put a human face on a nation and its people.
With Linda's testimonial to Peng Teng Yun, we have a means to directly connect with a distant part of the world—one in rapid transition. Setting politics and policies aside, this is a narrative about personal sacrifice, separation from loved ones and devotion to duty—rare qualities to be found today, made all the more relevant because they touch the life of someone who we, here at ARTES, call family."
IN MEMORY OF UNCLE PENG TENG YUN
(b.Taiwan, March 12, 1925 – d. Beijing, May 10, 2011)
One day when I was a young girl in Taiwan, my mother revealed a family secret to me about a lost uncle, the number five son. She recalled that as a young bride, like other daughters in-law marrying into a large Hakka household, she had to cook and clean for everyone, and he, of all others, lent her a hand and chopped a pile of kindling wood for the cooking stove. Then one day, he suddenly approached and bowed to my mother saying that he had to leave and apologized that he could not help to take care of parents. He then disappeared. It was 1946.
The name of Peng Teng Yun was whispered about very softly in the Peng family for fear of the Kuomintang agents, who at the time arrested any Taiwanese under suspicion of being against the Kuomintang or sympathized with the mainland Chinese.
Some 32 years later, after Nixon visited China, a short wave radio report floated across the Taiwan Strait with a message that a Peng Teng Yun was alive, married with three children living in Beijing. My father received word and immediately went through the various U.S. Embassies in Asia and PRC diplomatic channels to locate his brother, who apparently had permission to be found. The brothers happily united in Beijing. Uncle Teng Yun confessed that he was a little nervous when first meeting my father, a professor-doctor living in the wealthy and powerful America. In his pride, he wore his best and only Mao jacket to show that, even though China was so poor and backward then, there was dignity and a new future.
He recounted that on that fateful day in 1946, he barely escaped from Taiwan to Fujian on a small airplane arranged by underground operatives. The Kuomintang agents who trailed him could not believe that he would have access to a plane.
His was a story of a young man whose impulse against injustice and whose love of a ravaged nation became convinced that only under the leadership of the CCP could China be saved. He joined the PLA and a guerrilla troop. The support of the peasants moved him to tears, as when faced with near starvation, they still put aside precious food to feed him and other soldiers.
To Jiling in the Northeast was Peng Teng Yun then dispatched. Jing Yu and I saw the airplane repair shop where the older workers still remembered him with respect as a capable and fair manager, and the old grey dormitories where he and his family lived in a small space sharing with several other families one kitchen and bathroom. We walked the dry rice paddies where he took Jing Yu to catch field toads for food when there was not enough to eat. The building was still there where he was jailed during the Cultural Revolution for being an intellectual, an engineer with a college education, and maybe a Taiwanese who suspiciously could speak Japanese. We saw the small village where he shoveled manure and repaired a tractor that removed an obstacle of a large mound of earth and cleared the land. He won the hearts of the village people and caught the attention of party leaders.
He, despite having weathered the political vicissitudes of the CCP, remained true to his conviction, stuck to his sense of humanity, firmly grasped the context and time in which he lived, and possessed a sweeping perspective of history.
When China opened up under Deng Xiao Ping, Zhou En Lai's wife and others brought Uncle Teng Yun to Beijing to assist in leading an association of Taiwan compatriots. His mission was to travel the world to communicate with the Taiwanese diaspora, to convince them that China wanted to trade, to do business and catch up with the West. They picked the right man for the job. He was handsome, charismatic, knowledgeable and skillful in explaining and debating with skeptics and winning them over about new China and the One Nation Two Systems policy. He was a man of integrity and his word and a man of action who helped as many as he could. He was not afraid to criticize corruption and unfairness. He knew that reunification was a matter of time. And as an unwavering dialectical and historical materialist, he believed that China had to go through this period of uneven capitalist development.
He cried profusely during the telephone call with my mother when my father died in California. In his final years, he enjoyed his role as an elder Peng uncle, and quietly gave money to help his second brother and his widow, who had supported him in his escape to China long ago. He acted in kindness and gratitude, as much as in a vindication to show that the path he had taken for himself was not wrong and that his life's bet on China proved to be prescient.
Last October when I visited him in Beijing, even though ill and weak, he insisted on going to the Olympic Park for the first time. Walking slowly with a cane and a hand in my arm, as a slight breeze tossed about his full white hair, he turned his head to me with a slight smile on his pallid face and said, "Well, Linda, don't you think our Olympic Park can now compare with your Central Park?"
By Linda Y. Peng, Contributing Writer
May 19, 2011
New York, New York
May 1, 2011 
It's Not Easy Being Green
Green is the color of life returning. As the earth's annual cosmic orbit once again swings our northern climes into the direct and warming rays of the sun, nature's life-blood, chlorophyll, begins to flow through the budding leaves and plants around us. We associate this awakening with physical and emotional viability—our own and that of the other living things that we share space with in our world. 
Green is easy on the eyes. Its place on the light spectrum is smack-dab in the middle and the many shades of green, from yellow-green to forest, register primally on the brain in ways that conveys calm and the certitude of life-renewed. As a result, green is used worldwide to represent safety. 
The word green comes from the Old English word grēne, or, in its older form, grœni. This adjective is closely related to the Old English verb grōwan ("to grow, turn green"), which in its wonted usage referred primarily to plants, and goes back into Western Germanic and Scandinavian languages. Cognates in other languages include West Frisian grien, Dutch groen, German grün, and Danish grøn. The first recorded use of green as a color name in English was in 700. 
Because of our close connection to the natural world—both land and sea—green appears in a wide range of symbolic, ritualistic and nationalistic practices. Green is the color of the Heart Chakra, also known as Anahata. This chakra is located at the center of the chest area and is linked to the heart, lungs and circulatory system, bridging the gap between the physical and spiritual worlds. Opening the Heart Chakra allows a person to love more, empathize, and feel compassion. 
In several religions, green is the color associated with resurrection and regeneration. Accordingly, green is the color associated with Sunday in the Catholic Church and the altar cloth is usually green for Sunday services. In Ghardaia and other parts of M'zab, houses painted in green indicate that the inhabitants have made a pilgrimage to Mecca. Green, blue-green, and blue are sacred colors in Iran, where they symbolize paradise. As the emblematic color of Ireland, green represents the vast green hillsides, as well as Ireland's patron saint, St. Patrick. In Japan, green is regarded as the color of eternal life. In Aztec culture, green was considered to be royal because it was the color of the quetzal plumes used by the Aztec chieftains. In China, jade stones represent virtue and beauty. In the highlands of Scotland, people used to wear green as a mark of honor. Green is associated with Indian mysticism, Persian poems and Buddhist paintings. Italian Renaissance paintings often portrayed the devil as a ghoulish green figure, symbolizing death and putrefaction. 
The prophet Mohammed wore a green cloak and turban. As a result, the color green carries deep religious and political meaning for Muslims. Many flags of the Islamic world are green, as the color is considered sacred in Islam. The flag of Hamas, as well as the flag of Iran, is green, symbolizing their Islamist ideology. The flag of Libya consists of a simple green field with no other characteristics. It is the only national flag in the world with just one color and no design, insignia, or other details (and the revolutionary pronouncements of Muammar Gaddafi are contained in The Green Book, much reviled or coveted, depending on your stance on the country's future right now). In the run-up to Iran's 2009 presidential election, the reformist candidate Mir-Hussein Mousavi chose green as his campaign color, and it became pervasive among his supporters during the campaign and the post-election protests. Green is the lowest of the three bands on the flag of India. There, green stands for fertility and prosperity. Earlier Indian flags had contained a similar green band representing Islam, the second-most predominant religion in India. 
Serving as an occasional subject for Impressionist painters, modern absinthe, the liquor, dates from 1792, when Dr. Pierre Ordinaire commercialized it as a cure-all. Then, Henri-Louis Pernod founded the Pernod Fils absinthe company in 1805, seeing its aperitif potential. Absinthe's moment came with the 1840′s Algerian wars, when French soldiers drank it as a prophylactic against disease. They brought it home, and by the 1860s, Parisian cafes had established 5pm as l'heure verte – "the green hour." 
But, for all its abundance in nature and the man-made world, green has remained an elusive color for artists. Referring to it in an aptly metaphorical way, expert call it 'vagrant', in that it readily fades over time and—due to its chemical instability—can transform itself into sullen shades of brown, and even black. Europe's late 17th century encounter with the color green emerged just as two important events were occurring on the art and design scene: first, painters moved beyond the darkened confines of their studios and the strict thematic confines of religious iconography and portraiture, to include the broad sweep of nature's realm—newly realized as a result of Enlightenment thought and enquiry into the sublime beauty of God's domain and man's privileged place in it; secondly, there was an expansion of China trade and the arrival in Western Europe of exotic goods from the Orient (jade, pale celadon green dishes and vases, silks and boldly-patterned green wallpaper, picturing exotic birds, tropical foliage and strangely-dressed figures). 
With the green dyes used to make these imported fabrics and paper came an invisible and deadly threat—arsenic. Royalty's love affair with China's green object d'art incented a number of European paint makers to produce a viridian hue that would compete in brilliance and permanence with their Eastern counterparts. A Swedish chemist, Carl Wilhelm Scheele, found that the proper combination of copper, arsenic and other materials would produce a brilliant green dye—arsenite. Under the name, Scheele's Green, it was marketed to architects, manufacturers and painters, alike. His concerns about the poisonous nature of the paint were clearly documented; but, he ignored these concerns in order to sell paint! 
Before long, arsenic-laden paints and dyes had found their way into every corner of European life: carpets, wall paint, clothing, nursery furniture, curtains, artificial flowers and, of course, innumerable paintings and murals that bedecked the average well-to-do mid-19th home. It was not until the 1880s that scientists attributed the high number of arsenic-related illnesses and deaths to its ubiquity in everyday life. A researcher at the time, Henry Carr, estimated that a mere 2-3 grains "will destroy the life of a healthy man," he went on to say in typically-understated English style that, [it must be] borne in mind that an output of 4,809 tons…in one year, does seem a large quantity to be dealt with" (It was another 100 years [1980]before it was revealed that, upon his death in 1815, Napoleon had trace amounts of arsenic in hair samples taken from him at that time. His 'prison' room on St Helena's was lined with green wallpaper, rich with the poisonous chemical, when tested by modern chromatography). 
Recognizing the unstable nature of Scheele's green (though not its toxicity), which turned black when mixed with another deadly paint, lead white, the search continued for other greens for use in painting and design throughout the 18th and 19th century. The fashion tastes of Europe were now being imitated in Colonial America, and demand was higher than ever. The corrosion of copper was the most reliable and affordable source of a natural green color—verdigris; made by putting copper sheets in contact with vinegar. It could be readily mixed as a powder to create a bright green but, it too, was vagrant and turned black when in contact with lead-based whites. Verdigris came from everywhere and nowhere in particular. So, in English it means Greek green, the Germans called it Spanish green, the French made it with wine vinegar, the English with apples. George Washington loved the effect in his Palladian-windowed study, looking out onto his gardens for a double-green, indoor-outdoor feel. But, as it lost its colorful edge, an unenthused future president opted for Scheele's Green and the brilliance only it could provide. 
But, because of its modest performance, the market for verdigris was never strong enough to kill off the demand for brilliant Scheele's Green (although a few patrons certainly must have succumbed to its effects). It was only well into the middle of the 19th century that scientists were dispatched to Asia, in search of the perfect green pigment. The Chinese introduced them to a lowly root of the buckthorn tree, known in both the east and West for a thousand years as Lo Kao; but the question was, could it be brought up to speed by newer processing methods, to produce something other than the dull 'sap green' or 'bladder green' (named for the improvised pig's bladder that paints were stored in, in pre-tube days), when combined with alum and boiled, or 'walloped' for several hours. Highly reduced by this evaporation method, these greens would command exorbitant prices once they reached European markets (think: maple syrup production!) 
On the eve of these efforts, science back home in England had finally caught up with the quest for the perfect, stable green in the 1870s. The discovery of coal-tar, or aniline dyes meant that most colors could be reproduced artificially and at more reasonable costs. They also had the advantage of being permanent! Iodine green, methyl green and synthetic 'malachite' green flooded the market in the last quarter of the 19th century, giving artists a flexible, stable and convenient ways to capture nature on canvas. The irony was that solutions no longer had to be found in nature, as artists struggled to portray nature in all its splendor. The invention of the paint tube at the same time opened the door for easy transport and the Impressionist era of plein air painting, a celebration of pure color, was born. 
April 1, 2011  
Finding Words to Describe Great Art
Powerful writing about the visual arts in fiction is no easy task. Occasionally, I find a particularly beautiful example of an author incorporating observations about a particular painting or artist's work into the fabric of their novel. Such an example follows. It is from Muriel Barberry's, The Elegance of the Hedgehog (translated by Alison Anderson); New York: Europa Editions (2008). It constitutes a short chapter in a charming and witty story of a woman and girl unknowingly bound by profound intellectual gifts and a cautious view of the immediate world around them.   
10. What is Congruence?   
Whence comes the sense of wonder we perceive when we encounter certain works of art? Admiration is born with our first gaze and if subsequently we should discover, in the patient obstinacy we apply in flushing out the causes thereof, that all this beauty is the fruit of a virtuosity that can only be
detected through close scrutiny of a brush that has been able to tame shadow and light and restore shape and texture, by magnifying them—the transparent jewel of the glass, the tumultuous texture of the shells, the clear velvet of the lemon—this neither dissipates nor explains the mystery of one's initial dazzled gaze.   
The enigma is constantly renewed: great works are the visual forms which attain in us the certainty of timeless consonance. The confirmation that certain forms, in the particular aspect that their creators have given them, return again and again throughout the history of the art and, in the filigree of individual genius, constitute nonetheless facets of a universal genius, is something deeply unsettling. What congruence links a Claesz, a Raphael, a Rubens and a Hopper? Despite the diversity of subject matter, supports and techniques, despite the insignificance and ephemeral nature of lives always doomed to belong to one era and one culture alone, and despite the singular nature of a gaze that can only ever see what its constitution will allow and that is tainted by the poverty of its individuality, the genius of great artists penetrates to the heart of the mystery and exhumes, under various guises, the same sublime form that we seek in all artistic production. What congruence links a Claesz, a Raphael, a Rubens and a Hopper? We need not search; our eye locates the form that will elicit a feeling of consonance, the one particular thing in which everyone can find the very essence of beauty, without variations or reservations, context or effort. In the still life with lemon, for example, this essence cannot merely be reduced to the mastery of execution; it clearly does inspire a feeling of consonance, a feeling that this is exactly the way it ought to have been arranged. This in turn allows us to feel the power of objects and of the way they interact, to hold in our gaze the way they work together and the magnetic fields that attract and repel them, the ineffable ties that bind them and engender a force, a secret and inexplicable wave born of both the tension and the balance of the configuration—this is what inspires the feeling of consonance. The disposition of the objects and the dishes achieves a universal in the singular: the timeless nature of consonant form (pages 201-202).   
Illustration: Pieter Claesz, Still Life (1633); Collection Staatlich Kunstammlungen, Kassel, GE   
March 1, 2011       
Art Lust: Why does a portrait by Klimt—or by any other artist for that matter—fetch $135 million?
While auction houses continue to report monumental prices for paintings by some of the great masters of 20th century art, this article—originally published in the LA Times on June 28, 2006— provides a fascinating and timeless glimpse into the behind-the-scenes machinations that drive the price of masterpieces in any era.        
By Meryle Secrest,
the author of Duveen: A Life in Art.        
When Gerald Reitlinger published his seminal study, The Economics of Taste, 40 years ago, the book—which charts the sales history of famous artists over a 200-year period — was all about the likes of Bellini, Vermeer and Raphael.        
Thomas Gainsborough's, Blue Boy was, after the Mona Lisa, the most famous painting in the world, and Reitlinger's index does not even mention Gustav Klimt.        
Now one of that artist's paintings, a portrait of Adele Bloch-Bauer, has soared into the stratosphere, selling for $135 million. It is followed by Pablo Picasso's Garcon a la Pipe, which sold for $104.2 million in 2004. Among portraits, recent runners-up are another Picasso, Dora Maar au chat, which sold in New York for $95.2 million, and an Amedeo Modigliani portrait of Jeanne Hebuterne, at just over $30 million. The Old Masters, if not exactly spurned, no longer scale these rarefied heights, although in the 1920s and 1930s they made their chief proponent, Joseph Duveen, the biggest art dealer in the world.        
Assuming one can equate worth with financial value, what happened? What has made Klimt rise to the heights? Indeed, what gives any painting such a commanding presence? Answering such questions requires an appreciation for art's complex interrelationship with power and social status, both inextricably linked to exclusivity.        
One likes to think that the masters — the Leonardos and Michelangelos of the world — are beyond the reach of taste and that only painters like the 1
9th century's William Bouguereau and Lawrence Alma-Tadema go in and out of fashion, like bosoms, rap music and restaurants. Those who buy and sell know differently and can chart almost to the hour the moment a certain artist confers ultimate status on a collector and another descends a notch or two in the desirability sweepstakes.        
The great age of collecting Italian Renaissance art and Old Masters reflected the goal of all right-thinking millionaires — Frick, Morgan, Bache, Mellon, Kress, Widener, Huntington and many others. They aspired to greatness, or at least social acceptance, and possessing the rarest, most desired and most valuable artworks put them on a par with princes, which in a way they were. What a truly clever dealer, like Duveen, learned to do was to plumb the recesses of those closed hearts and coax them to want what other men had already decided was the ultimate prize. Because competition was in their blood, he could clinch a deal by pitting one against the other. As the art historian Kenneth Clark wrote, "The first tug at the line is the real moment of ecstasy."        
In 1921, when Henry E. Huntington decided, with some nudging by Duveen, that he had to have Gainsborough's Blue Boy, that 18th century portrait of an adolescent in old-fashioned clothes had already won the hearts of millions. It decorated untold living rooms, as well as biscuit tins and packs of playing cards. People had been trying to buy the original from the Duke of Westminster for decades. Duveen's strategy was to offer to
buy two other paintings that the duke wanted to get rid of and then slap a handsome price on all three — a then-record-setting $1 million.        
For Huntington, owning Blue Boy was the summit of a lifetime's ambition, but for the British, it was a frightful blow, like selling the crown jewels. Before the painting left Britain, crowds stood in long lines to look at it once more, and men bared their heads. Now the painting can be seen any day of the week in San Marino, at the Huntington Library, Art Collections and Botanical Gardens, and there are never lines.        
The symbols of greatness may go on changing, but the underlying human motivations remain unchanged. The sale of the Klimt, for example, illustrates one of the recurring themes behind the prosaic art-sale details of the transfer of funds, the locking and unlocking vaults, the crating and uncrating and, finally, the proud display with the new owner (in this case, cosmetics magnate and Neue Galerie founder Ronald Lauder) standing in the foreground. One hardly needs to belabor the point that the great collectors were almost all men, and that the sexual desire to possess has always figured into the equation. Part of the allure of painters like Bouguereau and Alma-Tadema was the way they managed to depict their demure, flawlessly proportioned and slyly dressed ladies in attitudes of yearning surrender.        
Klimt took that approach a definite step further in his luscious 1907 gold painting of Bloch-Bauer, with whom he was madly in love; the fact that she was somebody' else's wife was a mere detail. That cascade of gold is a reference to the Greek myth of Zeus, who transformed himself into a shower of precious metals in order to possess the forbidden princess Danae. The object of Klimt's affections, with her intricately linked hands and her soft eyes, looks as if sh
e knows exactly what is going on. In contrast, Picasso's mistress, Maar, with her disfigured, multifaceted face; her stiffly geometric body and vacant expression, comes a poor second. And Modigliani's Hebuterne, holding her right arm awkwardly across her chest, gives no clue to the artist's private involvement, or lack of it. No wonder she is, as it were, a $30-million bargain.        
Clark, who came as close as Duveen to understanding the motives of great collectors, liked to recall Calouste Gulbenkian, one of the founders of Shell Oil. The Armenian billionaire had a private vice, and he was so secretive and passionate about his paintings that he called them his "harem" and declared that he wanted them all burned on his funeral pyre. (Luckily, that did not happen; they are in a museum in Lisbon.)        
Then there was the dying Jules Mazarin, prime minister of France, stumbling through his picture gallery in 1661, past his Titians, Corregios and Carraccis, saying adieu to paintings que j'ai tant aimes ("that I so love").        
Perhaps very wealthy men only buy paintings as investments, but the evidence is to the contrary. Even Duveen, who after looking at beauty all his life was relatively immune, used to sit in the Tate Gallery for hours in front of a particularly wonderful Turner.        
"If I owned this," he once said, "I should want nothing more in all the world."     
                      *     *     *     *     *       
February 9, 2011         
Japonisme! A Fusion of Styles
From the word orient, we take our meaning, 'to establish a direction or a path based on the points of the compass'. Navigators over centuries faced east to trace the path of the rising sun to its apex for the noon sextant sighting—toward the Orient—the land of mystery somewhere over the horizon. That this archipelago of exotic lands lost in a vast sea, with its towering mountain ranges walling off enormous swaths of snow-choked plains, rain-drenched jungles, powerful emperors and marauding armies rising and falling from power somewhere in the veiled mists of time, could elude Western eyes for so many centuries, was no accident. For more than a thousand years, with few exceptions and under very limited conditions, the East remained off limits to European exploration and trade.
This self-imposed exclusion of Asian nation-states from a 'civilized' world that once measured its scope-of-influence by the greatest distance invading forces could be logistically supported from the shores and empiric cities of the Mediterranean, was displaced during the Age of Exploration. Bold expeditionary sorties were reaching the farthest corners of the globe. With discovery came dreams of riches; and with increasing profitable trade routes coursing the seas between expanding European centers-of-commerce, the Indian sub-continent and coastal cities of China, there arose a growing curiosity about the potential for profit to be found amidst the many harbors of the Japanese coast, its secretive people and the elegant coastal city of Edo, its capital.         
American financial interests in the Pacific in the 19th century had long been overlooked. And so, in 1853, Commodore Matthew Perry, armed with a fleet of gunships and a letter of introduction from President Millard Fillmore in hand, dropped anchor in the harbor of present-day Tokyo. Japanese ports had been closed to Western vessels for more than two centuries, under the xenophobic rule of the Tokugawa government. Perry's objective was ultimately not militaristic, but a show-of-force and the threat of future naval action was impressive enough to secure him a high-level meeting with those surrounding the emperor. He sought to open trade relations with the Japanese. While the American threat was overt and explicit, the opportunity contained in the message was clear: "The world is modernizing. Let's climb on the commercial bandwagon together, before you're left behind!" With the p
roposal on the table, Perry weighed anchor and left, stating that he would give the Japanese time to consider the proposal; but promising to return in a few months to consummate the arrangements.         
Japan had been aware of the lucrative trade arrangements existing between certain Chinese ports and trading companies in Holland and England, particularly. They also understood that a policy of isolationism would not be in their long-range best interest. Internal political unrest was no small part of the dynamic behind the decision to concede to Commodore Perry's demands. And so, with commercial trade agreements signed in 1855, the West was to be introduced to its first wave of Japanese artifacts arriving on their shores. Japanese traders quickly discovered that there was brisk overseas demand for their goods: porcelain, decorative bronzes, fabrics and lacquered goods. With the fall of the shōgunate in 1867, Japan quickly adopted an international spirit of outreach and took a pavilion at the Paris Universal Exposition, in the same year. There, Parisians saw their first formal presentation of the Japanese 'arts', launching a craze for all-things-Japanese, coined japonisme.         
It is one of the ironies of history that the first introduction to the art of Japanese print making would be as packing material for the porcelain table settings being shipped in wooded crates, decades before, elsewhere in Europe. They were viewed as exotica—artifacts from a far-off place worthy of attention—but in no way would they serve as a source of creative inspiration, given Western infatuation with the pre-eminent measure of good taste for that time, found in neo-classical styling. It took the French Expo of 1867 and the inclusion of works by a dwindling number of what had been many generations of Japanese block print makers (Hiroshige III, Kunisada II, etc. [students took the names of their masters, hence the generational appellation]), to rouse the inter
est and attention of the Parisian artistic community. One-hundred of these prints were sold after the exposition closed, spawning a keen interest in this style of work, called Ukiyo-e (Floating World); with the application of flat color planes, absence of perspective and appealing representations of Japanese women, lifestyle and landscapes found in these prints.         
Within ten years of their introduction to the French public, Ukiyo-e prints were being handled by well-known galleries, actively acquired by collectors and artists, alike—Monet, Manet and Gauguin among them. Van Gogh claimed, "Whatever one says, even the most vulgar Japanese sheets colored in flat tones are, for the same reason, as admirable as Rubens and Veronese." Their influence on the development of the Impressionist style can be seen in the work of many of the masterworks of the time, with Japanese dress, styling and representations of prints, themselves, finding their way into painting motifs. More importantly, japonisme affected French artists' perception of their very subject matter, with use of color, perspective and atmospherics mimicking that found in Japanese block prints. A detailed consideration of the works of Manet, Degas, Whistler, Bon
nard, Pissarro, Vuillard, Toulouse-Lautrec and Gauguin will reveal these influences. And, there are many fine books available on the topic.         
Here, on the banner page of ARTES, for February, we offer one small example, in the print making of Mary Cassatt. Her Nude Child (1891-92) is one of a series made in the classic Japanese style. Cassatt, a Philadelphian, "hated conventional art," and in 1877, when Degas invited her to join the impressionists in their reaction to the overbearing academies d'arts, she joined forces with the outcasts. She had first seen Ukiyo-e woodcuts at the 1890, Ecole des Beuax-Arts, with her friend and fellow artist, Berte Morisot, she set out to create a series of prints in that style. The result is a masterful fusion of East and West, as women and children (her specialty) interact and engage in everyday behavior, in muted tones and flattened planes-of-color and form—in the best spirit of the late 18th century and early 19th century Japanese master print makers.         
Illustrations (top to bottom): Japanese portrayal of Commodore Matthew Perry's gunship in Edo Harbor, 1853, block print, artist unknown; Claude Monet, Camille in Japanese Costume (1876); Henri Riviere, The Tower under Construction, As Seen from the Trocadero, from the book Thirty-Six Views of the Eiffel Tower (1902), color lithograph; (left) Mary Cassatt, Woman Bathing, 1890–1891, color aquatint and drypoint; (right) Utagawa Hiroshige, Kinryuzan Temple in Asakusa, from the series One Hundred Views of Famous Places in Edo (1856), color woodcut with 'lacquer' and embossing.         
January 8, 2011             
The Color(s)

Black

: A Love Affair
  "I paint with black because it is powerful and timeless" –Robert Motherwell             
What is black, physically, but the admixture (presence) of all the pigments on the artist's palette.  Conversely, within the rainbow spectru
m of visible light waves, it is the absence of any-and-all color frequencies).  Culturally, black carries a host of adverse and negative associations.  It is the color we wear to project grief; the color of night; the color of too-strong coffee; the color of our little black book (with all its secrets); the color of the hat worn or horse ridden to symbolize the arrival of the villain on the scene.  With black magic, we are cursed or spell-bound; when blackmailed, we are left compromised and poorer for it.  It is the color of mystery and murder films (noir); the color of deepest space, of infinity, as we are lost or separated from bright-blue Mother Earth; the color of shadows and ashes.  It is the color of loss and death.              
Black is the serious color we wear when we mean business, or for dramatic effect.  Black is the outcast in the colorful world of family photographs, television shows and block-buster movies. Black is rarely someone's 'favorite color' unless prone to depression or aspiring to be a fashionista of the Gothic lifestyle.  We can be in a 'black' mood one day and our friends and family will steer clear.  Black connotes sadness and isolation, desolation and disease (the Black Plague).  Black is politically incorrect, but can be socially fashionable (that basic black dress for every occasion).             
Black is back! Black is the 'new' brown, red or navy blue.  Black is always 'in', even when it's 'out'. Black is basic. Black is solid and reliable, a term for profitability (in the 'black'), which will put you in the pink! Black is a symbol of power when it's a limousine, a diamond, a mink coat or a judge's robe. Black was the color of every Ford Model T, telephone and office chair until we learned how to break the habit. Google "black" and the search return will be paltry, indeed.  No one has much to say about black. Black is, well…black.              
Isn't it?             
Ask an artist and you will get a very different answer. For them black comes in every color of the spectrum. There are red-blacks, yellow-blacks, blue-blacks and
brown-blacks.  There are warm blacks and cool blacks; lustrous blacks and flat blacks; but never weak blacks.  Black is a work horse in the art world; a reliable studio friend that will always carry the load assigned to it. Black is for emphasis or a powerful high light; black sets a figure off against a background, or is intended to draw our eye to some important detail. Where once we had just lamp-black (a mixture of soot from a torch or candle shade with fat, oil or egg white), now there is Mars Black, Lamp Black and Ivory Black, each with its own uses.             
Black is as old as fire and its use as a tool for expression is as old as civilization, itself.  To learn more about the history of black, I returned to a favorite text: Color- A Natural History of the Palette, by Victoria Finlay (2004).  Her fascination with the origin of colors took her around the world a decade ago, in search of their stories.  For centuries, pigments were derived from natural materials—minerals, chemical residues, plant extractions, dead animals and people.  In their time, the secrets of artists past were in the formulation of their colors.  Now they reside with the chemist in the commercial laboratory and the artist is left in the dark (another black reference!).             
According to Finlay
, the first intelligible marks made by man were broad sweeping lines with charcoal scraps on torch-lit cave walls of Altamira, Spain, and Lascaux, France, more than 15,000 years ago. Worshipping the effigies of the wild animals, portrayed there, increased the likelihood of a successful hunt.  Throughout early recorded history, mark-making symbolized a period of attentiveness to an object or person outside the self, as a way of preserving a memory, eulogizing a sacred or beloved figure or recording an event or scene for posterity. The Roman, Pliny the Elder, writes of a Greek woman who traces her lover's shadow on the wall, filling in the form with charcoal, preserving his physical presence in her own way during a long separation.             
Throughout the Renaissance, artist like Raphael and da Vinci depended on charcoal for pastel sketches and 'cartoons' of their monumental paintings, as guides for their future works on canvas and frescos.  Some critics today believe that their surviving drawings communicate a freshness and spontaneity not found in the finished works, because of the impermanence and natural feel of the medium—charcoal sticks manufactured from the well-suited, willow branch.             
Known as an effective and pliable basket weaving material by northern Europeans, what they called "viker", was known in Middle English as, "wican", from which we get our word wicker (and "weak" by the way, although the baskets made from this material were anything but!).  Grown like tall grass in marshy, English low-country, the ideal finished product is slowed-cooked in a low-oxygen oven until uniformly blackened throughout.  England's Coate's charcoal sticks, long a family business, are considered the best in the world for the purpose.             
Finlay's account of the Middle Eastern symbolism of black eye liner, made from the elemental material, antimony or "Kohl", and its per
ceived protective powers for the Taliban; the long history of the use of lead in drawing tools, followed by the international politics, at play over many decades, surrounding the Frenchman, Nicolas Conté's invention of the graphite pencil and the explanation for why  America's romance with "things Oriental" meant that most pencils are painted yellow today, makes for fascinating reading.              
The invention of ink in China and Egypt 4,000 years ago and the role of Daoism, in defining the mental journey required to create patiently-rendered landscapes, nature scenes and still lifes with a rich, black pine-log soot mixture and a single, broad brush, opens new doors on Western perceptions of the power of black to convey color meaning.  There, mere black becomes multi-chromatic, through time-honored methods of pigment shading and brush control.  In her travels, she also discovers the part that Rhino horn, a European egg-laying wasp, linseed oil, Gutenberg's press, our Pilgrim Founders, Pirates and South American "campeachy" wood, brought back by Spanish conquerors, would play in the ongoing development of permanent and fade-resistant black dyes and inks.             
The French Impressioni
sts of the late 19th century eschewed the use of black in their colorful paintings.  They believed that black did not occur in nature and so would create a near-black with the blending of vermillion red, ultramarine blue, emerald green or cadmium yellow.  It seems like a long route to take to reach nearly the same point, but it was a purist approach that appealed to these 'painters of light'.  By the turn of the century, the Post-Impressionists, like Cezanne and Gauguin were adding black to their palette to outline bold planar forms: for Cezanne as a means of creating fragmented, geometric forms that he saw comprising the landscape before him ( a precursor to Cubism), for Gauguin, a means to isolate pure pools of color, as he rendered the figures and landscapes of his adopted South Pacific paradise.             
Artists who have worked as print makers over the centuries have relied on a range of black inks to complete their wood cuts, etchings and lithographs, though.  They trade a paint brush for a stylus, litho stone or acid bath because of the power that a final image, in warm tones of black on thick, white paper can convey. Another reason, surprisingly, is the element of loss-of-control that a well-trained painter must submit to, as the printing process yields different outcomes than may have been planned.  For an artist, this is called living on the edge!  It is creative energy at its best.   
Over the course of the 20th century, certain artists have become known for their work with black paint.  The sampling of work shown here spans several hundred years and includes just a small sampling of what is out there.  It will serve, I hope, as an introduction to the strength and seductive power of black.              
I have chosen to feature these black and white works for the month of January as I considered a wintery, wooded scene outside my office window one day.  Overnight, nature had converted the vista from one of deep reds, grays and browns to a black-and-white reality.  The power and timeless quality of the setting in flat, early morning light—reduced to essential line and form, light and shadow and devoid of depth and detail—underscored the ability of black to stand alone as 'figure' against the negative 'ground' of white, to awe and amaze, to reveal anew what has always been there.               
Illustrations (top-to-bottom): Robert Motherwell, Lament for Lorca, lithograph (1982); Stained glass window, French (15th c.), The Cloisters, NY, Jacques Villon, Le Boa Blanc, drypoint (1904); John Murphy, Sprinters, woodcut (1930); Jean Arp, Dreams and Projects, woodcut series (1952); Safet Zec, La Barca, etching (c.2005)          
December 6, 2010              
The Gift:
For the ARTES Publisher, Art and Politics Combine in an Unexpected Way
I step from the cool marble lobby of a mid-town office building into the blazing sunlight of a New
York City summer afternoon. Glancing left and right in the glare, I accommodate my eyes and my will to the next event on my schedule. In the distance the heat rises from the streets and sidewalks of 5th Avenue in visible waves. A maze of stoplights and brake lights blink back at me. My next meeting is in Queens, across the East River, in a large warehouse, turned artist's studio. Today, I had planned to go subterranean, taking the '4' down to Grand Central, then transferring to the '7' train to Queens. But, the heat and the extra weight in my backpack of a large book given to me at my last meeting prove too much. I step to the curb and raise my hand in that casual pointing-to-the-sky way that New Yorkers do to hail a cab.              
Within seconds, a yellow Checker pulls up, just missing my toes. I open the back door, throw my pack onto the seat and crawl in. I lean forward and give the driver the address of my destination. He presses a button or two on his meter and we are off!              
I am separated from the front seat and the driver by the customary plastic divider, with a small rectangular window in the center. The passenger space is festooned with all the information I should ever need to know about rates, liability and precautions…with my safety in mind, of course. The irony of this strikes me as the driver reaches speeds of close to sixty between stops—and in heavy traffic. His favorite toy seems to be his horn and the sides of his vehicle appear to come dangerously close to brushing both pedestrians and other encroaching vehicles off the road as we speed south to the Queensboro Bridge. I sit rod-stiff, gripping my pack and staring at the side of the driver's head, trying my best to telepathically communicate the message: "Slow down. I want to live!"              
"Are you English?" he suddenly says, in fractured English.              
"Excuse me, did you ask me a question? I say, having heard the inquiry, but being momentarily disarmed by how this man can manage to initiate a discussion when I believe he should be using all of his mental faculties to win at the game of "Chicken" he is playing with the other cab drivers on Lexington Avenue.              
"Are you English?" he repeats              
"Uh…no, American. Why do you ask?"              
"I think you sound English when you tell me where you are going. I am in America for six months and I try to learn the difference. Where I am from, you are all English."              
I now dare to drop my eyes from the windshield re-enactment of Bullitt and Steve McQueen's high speed chase through the streets of San Francisco, to glance at the picture and name on the license posted in a frame on the back of the driver's seat. In his photograph, he is dark skinned, with a shock of disorderly black hair and dark eyes. I catch his first name as Adam…last name unintelligible.              
"Are you Israeli? I ask, using all of my deductive skills to decipher the word, a-dam, meaning 'first man' in Hebrew and draw an immediate conclusion from this bit of trivia. I am also trying to pigeonhole the possible ethnic origins of this nascent conversationalist, as he grips the steering wheel of our bright-yellow death wagon. To my chagrin, his eyes are now cast in my general direction, as we careen down 59th Street.              
"No, I am Palestinian, from West Bank. I live with my brother's family in Astoria. Big Arab neighborhood there. Why do you think I am a Jew?"              
"Because of your name, 'Adam'. That is a common name for Jewish men," I say, trying to rescue my erudition and keep from being dumped into the East River, as we now cross the bridge and I glance through the back window at the Manhattan skyline falling away—hopefully not, in my case, for the last time.              
"It is Arab name, too. We both have Adam in our religion. Do you like politics?" he asks, as though trying to spare me the embarrassment I already felt. "I am glad Bush is gone," he adds, not waiting for an answer to his question. "He hated Palestinians and Sadat. He made nice to Sadat in front of cameras, but he was really a Jew lover."              
"I didn't like Bush either," I say, trying to win this man's loyalty back and talk my way out of a possible hostage-for-cash situation, as I imagine myself missing the upcoming meeting and find myself, instead, bound and gagged in some darkened back room in his brother's house. "But I think everyone wants peace in the Middle East. It's just very hard to figure out how to do it so both sides get what they want."              
"We stand a better chance with Obama," Adam says, "He's Arab, too, so he is on our side."              
"Adam," I say, reflexively leaning forward to engage him, knowing full well that I might be throwing my tenuous grasp on my own safety out the window, "Obama is an American. That has been proven time and time again. His interests are exactly the same as yours and mine. He just wants this big problem to be fixed." I hesitate for a moment then shift the focus away from this no-win situation. "You've been here for six months. Did you come to be with your family?"              
"I stay with my brother while I am here for two years to make money. My wife and kids are back home. My son is smart and he wants to go to American college to be engineer. The only way we can do that if I work here to send money home. Then, my son comes to U.S. for school. My son is very smart…not like his father."              
"I think you're smart for having a plan and carrying it out. You must miss your family," I say, relaxing a bit now that we have diffused the situation and found some common ground. "And you get to see your brother a lot," I add.              
The cab moves out of heavy stop-and-go traffic on the bridge and into the borough of Queens. A jumble of small retail shops, warehouses and poorly-parked trucks covered with graffiti line the narrow side streets that Adam takes, in a zigzag route to my destination. He drives with the confidence of someone who is in familiar territory and I ask him if his family lives nearby.              
"Yes, just a few blocks for here, he replies. Then he adds, almost as a random afterthought, "Do you know why the Jews don't eat pork?"              
"Why? "I ask, watching the meter tick off the dollars and wondering if I won't have to pay if I suddenly disappear down a dark alley and into the back of a waiting van, the cold steel floor against my cheek as I am rushed out of the city to an unceremonious encounter with a New Jersey backwater landfill.              
"Because," Adam carefully explains, "when God made the world, he put lots of animals here, including pigs. The pigs grew so fast that there were too many of them. So when God decided to add people, he turned some of the pigs into Jews. That is why Jews don't eat pork. They would be eating their relatives."              
I sit dumbfounded by this logic, my mouth agape in disbelief. I weigh the odds of my safe arrival at my destination against the need to speak out once more against this astounding explanation. I, of course, cast safety to the wind and respond, "Adam, that is the most preposterous thing I have ever heard! You brag about your intelligent son and how you want him to come to school in the U.S. Does he believe this, too? Did you teach him this nonsense?"              
"All Arabs believe this. The kids have their own ideas, but my generation has many stories about why the Jews are the way they are."              
"And you think there can be peace in Palestine if people keep thinking like this?" I ask.              
"The Koran teaches these things and it is not our place to question it. God will decide who will win."              
"Adam, God has nothing to do with this. It's about people like Obama, Netanyahu and the Palestinian Authority who will solve this problem. Hamas needs to stop shooting mortars into Israel and Israel should stop expanding settlements on the West Bank for any of this to work out. But nothing positive can ever happen if you keep talking this nonsense about the Jews and pigs!              
I am angry now and disbelieving that I am having a heated debate with a cab driver about an issue that I had never given much thought to. I am leaning forward, close to the tiny window separating us, eager to engage the discussion. Adam has now turned in his seat and is smiling back at me. "We're here," he says.              
I look around in disbelief. The yellow death mobile is parked in front of a towering warehouse on a deeply-shadowed side street, far from the hustle of Queens' main thoroughfares. It appears, after all, that I might live to tell the tale.              
"Thank you," I say, "I hope I didn't offend you."              
"In our country we talk like this all the time," Adam says. "It is good to have these debates. I like that you say what you feel."              
I open the door, grateful to have solid ground under my feet. I reach for my pack and pay my fare through the open side window of the cab. As I turn to go, surveying my isolated surroundings, I turn back to the cab as Adam is making a note on a clip board propped against the steering wheel. "Adam, my meeting will take about an hour. Do you think you could work the streets of Queens for a while and pick me up here for the ride back to Grand Central?"              
Adam reaches to his dashboard for a business card and scribbles his cell phone number on the back. "Call me five minutes before you are ready to leave and I will be here for you."              
Later, when I emerge from my meeting, having followed his instructions, the shiny yellow cab sits idling, a sunny beacon in the dull gray surrounding of this warehouse district. Adam is behind the wheel and has someone else with him in the front seat (takes two to drag a body, I briefly consider). I open the back door to toss my back pack in, only to find a flat white object, about the size of a shirt box, sitting in my place on the seat. Cautiously, I move it aside, listening for a tell-tale tick-tock-tick-tock and climb in.              
Adam turns to me and says, "This is my nephew, Shamir. He is my brother's son and he goes to school here in Queens. I wanted him to meet you."              
I extend my reach through the small window to introduce myself. A broad-faced boy, with apple-red cheeks and widely-set, black eyes, Shamir shakes my hand and offers me a demurring smile, eyes slightly downcast. As we speak, the cab slowly pulls away.              
"Shamir is going to go to college too," Adam says as he guides the cab, more cautiously this time, toward Queens Boulevard. "I went to the house to get him because I want him to meet a smart American man and to know that he could be that also." He looks at Shamir for signs of recognition for the importance of this message. Shamir now trains his dark eyes on me, but says nothing.              
"Thank you, Adam," I say. "I take that as a good sign," hinting at our previous debate.              
"And box in the back seat…that is for you."              
I reach for the small box and am surprised by its heft. Given its size, I can't imagine what might be inside that could weigh this much and still not be life-threatening. I carefully open the top to discover an assortment of rich, honey and almond-soaked deserts, in neat rows. There is a well-ordered line of triangle-cut baklava, honey oozing from the sides; six glazed brown cookies with a toasted almond pressed into the center of each and a third row of flaky-crusted rolled creations, a creamed confection spilling out of each end. All sit on neatly-arrayed, pierced paper doilies, evoking an image of a family dinner table presentation from another, slower-paced world.              
"My God, Adam, what is this?" I say in utter disbelief.              
It's from my brother's bakery, he announces proudly. "I want you to have a taste of my homeland and to remember our talk. Take them with you on the train and share them with your family at home."              
I thank him profusely and we talk eagerly about his son and wife and family back home. We avoid politics. Shamir sits quietly and attentively, not missing a word, appearing proud to be in his uncle's cab on such an important occasion.              
We get to the station in good time, the majority of traffic flowing out of the city as we drive in-town, late in the day. On 42nd Street, Adam pulls over to the curb near the station entrance. I lean forward through the window to shake his hand in thanks and farewell and to say goodbye to Shamir, as well. I gather up my possessions, including my gift, nudge the door open with my foot and turn my attention back to the tiny window.              
"How much do I owe you?" I ask.              
"Nothing," Adam said. "My compliments."              
November 6, 2010                
What We Fear…How We Cope: The Language of the Soul
Cultures evolve around patterns of belief in powers that reside outside ourselves, in the natural universe. Every culture venerates the mysteries embedded in symbolic references to these powerful—but unknowable— life-shaping elements.  Behind the impulse to embrace these hidden forces is a set of primal fears and suspicions, buried deep within our consciousness, having been a part of us for as long as man has considered the meaning of existence.  Elevated self-awareness only brings escalating self-doubt and longing—a deep yearning to search out a purpose for living and to be able to reassuringly root ourselves in the familiar world of sensation. Symbols of our faith, in form and flesh, become the psychological salve that heals our sense of alienation and isolation in a Darwinian, survivalist world.                
Artists have treated this emotionally-charged topic in many ways over the centuries, appropriating the symbols of life and death, in ways that both illustrate and expound on their relevance to us. Particularly in the modern era, the 'Age of Anxiety', the bridge between symbolism-as-motif in the visual arts and our first-hand experiences of alienation and vulnerability remain particularly germane.  For purposes of comparison, the work of two artists, working more than one-hundred years apart will be compared and contrasted here; allowing for the thread of common themes to link the two, while observing how the symbols employed in each painting and the cultural milieu that produced each, differed widely.                   
The first is Ferdinand Holder's, Night (1890). A little-known Swiss artist in the U.S., his work is held by only one museum in this county (Art Institute of Chicago).  Well-known in Western Europe in the early 20th century, he was praised as one of the greatest artists of the time. His work was compared to that of Cezanne and one critic summarized his significance by seeing in him the realization of, "our era's deep yearning for greatness and immortality." [1] His early work however, continued to be largely representational portraiture and landscapes, "painted after nature exactly as the artist saw it." [2]                
It was only after 1885, that his recently exhibited work caught the attention of a group of Genovese poets, who embraced the French Symbolist lyrics of Mallarme and Verlaine.  Under their direction, Holder became more interested in abstract and philosophical themes, "…to make use of Naturalism to create the ideal." [3] At that stage in his career, themes of the Eternal and the fragile relationship between man and the creative forces of the universe entered into a visual dialogue on his canvases.  Following the success of the first showing of Night, in 1890, amid some controversy in Geneva, the painting and Holder's reputation as a Spiritualist quickly spread to other cities in Germany and the Netherlands.                
The metaphysical themes of Night, in which the eerily-draped, amorphous form of the phantom of death, shrouded in black and crouching over the naked body of a terrified man, brings the evocative power of symbolism home to the viewer.  We find the man, who moments before, had been reclining amidst the ethereally illuminated figures of other sleeping figure, is now suddenly wrenched from the intimate scene of warm and sensually-rendered flesh, intimate contact between sleeping lovers and the mannerist posturing of figures, reflecting another, more classically-inspired time in historical painting.   Here, an expression of fear and panic isolate the single figure (thought to be a portrayal of the artist, himself), as the harbinger of death—faceless and nearly formless—bears down on his body and soul, about to reap his harvest.                 
This painting is a study in isolation and alienation, common themes among the intellectual forces of the late Victorian period, that were driving the discussion of man's increasingly marginal role in an industrialized world.  Created at a time when Holder was plagued by fears of his own death, following that of his sister, the painting must have served to fix and allay those anxieties.  But, in accordance with the demands of Symbolism for the portrayal of the mystical, the full significance of the painting may be intended to defy clarification, with its mixture of the traditional and personal, the naturalistic and the abstracted. [4]                
Yet, many elements of Western belief systems are represented in this piece: death's visage as horrific and unexpected, leading to an uncertain and perhaps frightening final destination; the lone, suffering figure at odds with the uncertainty of his future in the world; the notion of being trapped or cornered by fate, where freedom and choice is suddenly limited by civilization around us and the marked indifference and non-participation of the other figures in the scene, represented in their ultimate state of naked vulnerability and private reverie.  The representation of death and destruction in the lives of Western man is often personified in art (though only hinted at here), where our God and his symbolic correlates posses an alien, other-worldly quality that intrude as unwelcome visitors in our lives, when least expected.  The adversarial symbol of death portrayed in Night is an aberrant and terrifying visitor, serving as a universal Christian symbol for our solo spiritual journey through a world, where temptation and its chilling consequences thrust us into an unremittingly tempestuous journey through the world around us.                
Like the Romantics before them, the Symbolists opposed the values of rationalism and material progress that dominated (and continues to) western culture, exploring instead, the non-material realms of emotion, imagination and spirituality.  Ultimately, Symbolists seek a deeper and more meaningful reality than that encountered in everyday life.  They reject formal, stylized compositional structure in their work, favoring instead, the realm of the imagination and figurative ambiguity that reflect our mysterious and elusive connection to life and our surroundings.                
In contrast to the more Western, formalized Spiritualistic constructs found in Holder's Night, is the recent work of Cuban artist, Manuel Mendive and his narrative painting, Shangó y la Vida (Shangó and Life), 2004.  This painting, by one of Cuba's most famous artists, is a blend of religious and spiritual motifs that define the very essence of the island nation.  A cultural admixture of indigenous Cuban, Spanish-Catholic, African tribal folk and religious traditions—and even Asian influences— go to make up a rich ethnic stew, known by the rich, meaty hotchpotch known as Ajiacó.                  
Raised in a blue collar neighborhood outside Havana, Mendive began painting in the 1960s, incorporating the vivid mythical traditions of his African, Yoruba tribal ancestors, with the Santería religious practices of Cuba.  Santería is a system of beliefs that merge the Yoruba religion (brought to the New World by slaves imported to the Caribbean to work the sugar plantations), with Roman Catholic and Native Indian traditions. The term Santería was originally a derisive term applied by the Spanish to mock followers' seeming over-devotion to the saints and their perceived neglect of God.  It was later applied to the religion by others. This thin 'veil' separating the relationship between Catholic saints and Cuban Orisha (a spirit or deity that reflects one of the manifestations of Olodumare (God) in the Yoruba spiritual or religious system), however, is somewhat undermined by the fact that the vast majority of santerós in Cuba today also consider themselves to be Catholics, have been baptized and often require initiates to be baptized. Many hold separate rituals to honor the saints and orisha respectively, even though the disguise of Catholicism is no longer needed.                
Mendive captures the vital forces of nature and his ancestral past in his painting. Shangó and Life, immortalizing the 'Spirit of Thunder,' the Orish that embodies power.  Shangó, known for his passion and virility, is represented in the center of the painting by a large phallus that links the two halves of the composition and then turns into a Royal palm. This tree serves as a symbol of Sangó's divinity and home. He is a womanizer, charming, generous and a fearless warrior.  Of the many figures in the piece, each serves a particular function: there is 'Osain,' keeper of the jungle and plants, but has only one eye and hears out of just one ear; there are the 'Ibeyi' twins, sons of Shangó, who must remain tied together to avoid losing their power.  They represent fortune and good luck and here, offer their fruits.  Snails, roosters, goats, turtles, birds and fish nourish other figures. Here, in this single work, are found a pantheon of figures that represent the rich heritage related to Shangó. [5]                
Spiritualism in a culture, like Cuba with its strong African and colonialist roots, having known so much pain and suffering has, by its very nature, evolved in a more forgiving and interactive light.  The surface of the Mendive painting (even its edges have meaning!) comes to life with an array of figures that offer nurturance, flexibility and hints of cultural unification, while evolving to remain steadfastly and pragmatically relevant to its community of believers, over generations.  In Shangó, the forces of nature unite in support of the people.  By comparison to Holder's Night, with the terrifying consequences of life's end being played out alone, in a shadowy room of the indifferent and unaware, Mendive's colorful and mystical canvas, Shangó and Life, with its interactive spiritual panoply, tells the story of engagement and connectedness to the population; serving as a bridge to understanding in a complex, harsh and unforgiving world. -RF              
_____________________________________              
Citations:              
[1.2.3] Museum Studies, Vol. 12, No.2, Art Institute of Chicago: 'Ferdinand Holder, A Unique Note in the Birch Bartlett Collection' (1986), pp. 166-187.              
[4] Marilyn Stokstad, Art History, Vol. 2, Prentice Hall (2005), pp. 998-9.              
[5] Gail Gelburd, 'Ajiaco, Stirrings of the Cuban Soul', University Press of New England (2009), prepared in conjunction with the Lyman Allyn Museum Exhibition, New London, CT              
October 4, 2010                 
A World without Borders: Cultural Diplomacy in a Global Environment
Our Best Hope                 
"Our best hope lies in our nascent arts. For if we are to be remembered merely as the people who lived, loved, made war and died; then it is for our arts that we must be remembered.  Captains and kings vanish. Great fortunes dissipate leaving hardly a trace.  Inherited morals, like inherited wealth disappear so rapidly, the multitudes flock away like locusts.  Walls and the records tumble and the leaders, too. The leaders too, are soon forgotten unless they have the wisdom and foresight to surround themselves with doers, poets—artifices of things of the mind and the heart."         -Maxwell Anderson (c. 1935)                 
The words of this American dramatist and man-of-letters were penned more than a half-century ago and yet, they still resonate today.  Political divisions, economic challenges and  regional conflicts are felt more acutely now than ever before, given our emerging presence as members of a global community.  In a recent symposium on cultural diplomacy, sponsored by the Aspen Institute, of Colorado, The Phillips Collection, Washington, D.C. and the John Brademas Center for the Study of Congress, the theme of human values, finding common ground between and among cultures and cultivating a richer understanding of the human condition were explored.                 
Changing thought processes and attitudes is not an easy task.  The common language that binds all of humanity can be found in our modes of creative expression, however.  The task is to decide how best to deliver that message, as Americans, and how to shape the effort so it is not perceived as self-serving, but rather, invites an enthusiastic and equally well-intended reciprocal response from other countries.  The best and least politically-charged approach to this task, the conference presenters agreed, was through the private sector, where governmental influences are effectively removed, or at least distanced from the core message.                 
American cultural diplomacy depends more on the arts than ever before. Consider the following facts: The U.S. military is the largest and most prominent instrument for outreach to the world; the Defense Department budget for U.S military bands is larger than the State Department budget for diplomatic initiatives, worldwide; the budget for the National Endowments for the Arts (NEA) and the humanities (NEH) is a mere 1% of the defense budget and shrinking in terms of real dollars every year; the book, Three Cups of Tea, by Greg Mortenson is required reading for all officers serving in Afghanistan, making the point that winning the hearts and minds of the people is the only real way to win a war with a thousand-year history of tribal rule and ethnic clashes.                 
Azar Nafisi, author of Reading Lolita in Tehran (2003), offers a refreshing perspective, as an Iranian-born woman who is now a U.S. citizen.   She suggests that memory is the basis for individual identity and collectively, for any culture or nation.  National memory spans generations and is not displaced by political or military repression.  The physical manifestation of those collective memories lies in its cultural artifacts: its art, architecture, literature and poetry.  Cultural memory is often 'stored' in repositories, called museums. But, in many countries, it can be a ubiquitous part of the national landscape.                 
Nafisi suggests that a Culture of Imagination transcends borders; knows no gender, race, or religious bias.  Literature, for her, can serve as a universal language that offers a culture of recognition.  We discover ourselves in the reported lives of other people. Our struggles and dreams, desires and hopes are the same. Any government or established political institution cannot possibly reflect the complexity of its people and their beliefs. For example, she points out that the use of the phrase 'the Muslim World' is an empty term. The expression attempts to encapsulate geography of thousands of miles and dozens of countries, lumping countless sects and local religious communities into one meaningless, but emotionally-charged image for most Westerners.                 
So, for cultural diplomacy to serve as an effective alternative to bureaucratic interventions , non-governmental organizations must be prepared to reach out to other countries and cultures as equals, understanding that information flow is a two-way street; a sense of history (collective memory) and knowledge of the intellectual and artistic contributions of those nations is essential and that the world is increasingly 'borderless', with technology and economics becoming the great levelers of the playing field and equalizers when it comes to understanding the shift in U.S. supremacy on the world stage. Cultural outreach, including the arts, literature, music and theater, becomes a key ingredient to assure ourselves, as a nation, that our lifestyle and values are represented in a way that neither threatens nor overwhelms, but that we meet our global neighbors and build bridges of understanding on equal and respectful terms. -RF                 
Explore programs and video streams of past events at the Aspen Institute: www.aspeninstitute.org                
Visit the Phillips Collection at: www.phillipscollection.org                
Learn about the Brademas Center at: www.nyu.edu/brademas                
September 3, 2010                    
The Art of Making Art
What follows is a wonderful historical record of how a particular artist resolved the issues of a particular subject, to yield a masterpiece of art. It was written by Blaise Cendrars in 1924, about his friend, the painter Robert Delaunay, and the creation of his painting, Champs de Mars: The Red Tower (1911)*                    
The Eiffel Tower                    
-dedicated to Madame Sonia Dulauney                    
"…In the years 1910, 1911, Robert Delaunay and I were perhaps the only ones in Paris talking about machines and art and with a vague awareness of the great transformation of the modern world.                    
At that time, I was working in Chartres, with B…, on the perfecting of his plane with various angles of incidence, and Robert, who had worked for a time as a journeyman mechanic,  in some artisan locksmith shop, was prowling, in a blue coat, around the Eiffel Tower.                    
One day, as I was coming back from Chartres, I fell out of the car at the exit of the Parc du Saint-Cloud and broke my leg. I was carried to the nearest hotel, the Hôtel de Palais, kept by Alexandre Dumas and his sons. I stayed there, in that hotel bed for twenty-eight days, lying on my back with a weight pulling on my leg. I had the bed pushed against the window. Thus, every morning, when the boy brought me my breakfast, threw open the shutters and opened the window wide, I had the impression that he was bringing me Paris on his tray. I could see, through the window, the Eiffel Tower like a clear flask of water, the domes of the Invalides and the Panthéon like a teapot and a sugar bowl, and Sacré-Cœur, white and pink, like a candy. Delaunay came almost every day to keep me company. He was always haunted by the Tower and the view from my window attracted him strongly. He would often sketch of bring his box of colors.                    
It was thus I was able to be present at an unforgettable drama: the struggle of an artist with a subject so new that he didn't know how to capture it, to subdue it. I have never seen a man struggle and defend himself so, except perhaps the mortally wounded men abandoned on the field of battle who, after two or three days of superhuman efforts, would finally quiet down and return to the night. But he, Delaunay remained victor.                    
And now, think of my hotel window opening onto Paris. It was the subject of all his preoccupations, a ready-made painting which had to be interpreted, constructed, painted, created, expressed. And it was quite difficult. In that year, 1911 Delaunay painted, I believe, fifty one canvases o f the Eiffel T
ower before succeeding.                    
As soon as I could go out, I went with Delaunay to see the Tower. Here is our trip around and in the Tower.                    
No art formula known until then could make the pretense of resolving plastically the problem of the Eiffel Tower. Realism made it smaller; the old laws of Italian perspective made it look thinner. The Tower rose above Paris, as slender as a hat pin. When we walked away from it, it dominated Paris, stiff and perpendicular; when we approached it, it bowed and leaned out over us. Seen from the first platform, it wound like a cork screw, and seen from the top, it collapsed under its own weight, its legs spread out, its neck sunk in. Delaunay always wanted to depict Paris around it, to situate it. We tried all points of view, we looked at it from all angles, from all sides, and its sharpest profile is the one you can see from the Passy footbridge.                    
And those thousands of tons of iron, those 35 million bolts, those 300 meters high of interlaced girders and beams, those four arches with a spread of 100 meters, all that jelly-like mass flirted with us. On certain spring days it was supple and laughing and opened its parasol of clouds under our very nose. On certain stormy days it sulked, sour and ungracious; it seemed cold. At midnight we ceased to exist, all its fires were for New York with whom it was already flirting then; and at noon it gave the time to ships on the high seas.  It taught me the Morse Code which allows me today to understand radio messages. And as we were prowling around it, we discovered that it exerted a singular attraction for a host of people. Lovers climbed a hundred, two hundred meters over Paris to be alone; couples on their honeymoon came from the provinces and from abroad to visit it; one day we met a boy of fifteen who had traveled from Dusseldorf to Paris, on foot, just to see it. The first planes turned about it and said hello, Santos-Dumont had already taken it for his destination at the time of his memorable dirigible flight, as the germans were taking it for their target during the war, a symbolic and not a strategic target, and I can assure you that he wouldn't have hit it because the Parisians would have killed themselves for it, and Gallieni had decided to blow it up, our own Tower!                    
So many points of view to treat the problem of the Eiffel Tower. But Delaunay wanted to interpret it plastically. He finally succeeded with the famous canvas that everybody knows. He took the Tower apart to make it fit into his frame, he truncated it, and bent it to give it 300 meters of dixxying height, he adopted 10 points of view, 15 perspectives, so that one part is seen from below, another from above, the houses surrounding it are taken from the right, from the left, bird's-eye view, level with the ground…" (1924)                    
*Excerpt from, Transforming Visions- Writers on Art, an Art Institute of Chicago publication, Bullfinch Press, Little Brown & Co., 1994                    
August 3, 2010                         
Through the Eyes of a Child
 The exuberance of a child exploring her world is a pleasure to watch. Children convey an unbridled truth and inventiveness in their observations of the people and objects around them. Most importantly, they believe in the absoluteness of their place at the center of the universe and the fantastic possibilities of everything within their reach. The magic of children's art lies in its ability to engage the imagined world, unencumbered by rules of physics or probability; where they may ascribe unique shape and color to everything they see around them. We were all part of that world at one time in our lives. We once all intuited the secrets to unbridled creativity. At one time, we were each artists in our own right. Only a small fraction of us, however, have attempted to find our way back.                         
The idea that modern art looks like something that can be accomplished by a child is a cliché. Yet, most artists understand that to paint in an abstract style is more difficult than representational art by an order of magnitude. The logical breakdown is two-fold: first, to assume that the child is intending to create an abstract work of art. They are, in fact, using untrained muscles and a set of drawing skills not yet impacted by the rules of perspective, relative size and color guidelines that impede the rest of us. They are working hard to create a realistic drawing and, for them, their effort, no matter how quaint or 'primitive' in our view, is usually a success in theirs; the second is to assume that the professional artist is incapable of creating a refined rendering of their subject. Suspending the formal rules of rendering or mark-making in art, in the interest of a desired effect or impact on the viewer, is only possible once you understand what those rules are! Their finished product may look accidental or even erroneous, but the intention is most often deliberate and calculated.                         
 To what end, you may ask?                          
In order to understand the apparent visual link between children's art and its possible influence on the 'childlike' features of certain modernist works, it is important to highlight the research of Jonathan Fineberg and his publication, The Innocent Eye (1997). Years of exhaustive research on the topic resulted in his curating a 1995 exhibition, "The Innocent Eye-Children's Art and the Modern Artist", at two European museums. Feinberg noted that, "the roots of child art lie in the Romantic movement and their notion of 'genius' in the form of childlike innocence. Accordingly: they believed that children have more direct access to artistic inspiration; the ability to see things objectively (what Ruskin, in 1850, called, 'without consciousness of what they signify'; the ability to see beyond the appearance to the 'truth' of things and fourth; a privileged view of the mysteries of life." (Editor's note: as youths, they were believed to be that much closer to their Creator, chronologically— and therefore, to the spiritual—than their adult counterparts).                         
As a result of this assumed link, the experimental, even politically-radical climate within artistic movements in Europe, surrounding the World War I period, would begin to make allowances for the inclusion of children's art. As more traditional sources of inspiration and old-school methods of making art were being challenged, new, more 'modern' approaches dominated the scene. Again, Fineberg notes that Andre Derain commented, in 1902, "I like to study the drawings of kids. That's where the truth is, without a doubt." August Macke, in The Blue Rider Almanac commented, "Are not children more creative in drawing directly from the secret of their sensations than the imitator of Greek forms?" And he observes that, for the Dadaists, childhood served as a symbol of their strategic retreat from social norms in search of spontaneity. For the Russian Symbolist painter, Leon Bakst, "what delights and moves us [in children's' pictures] is candor/sincerity, movement and clear, clean color."                          
Artists like Henri Matisse noted the importance of children's art, but did not eagerly embrace it as an influence in his work; Wassily Kandinsky collected children's work and actively included imagery from some of these drawings in his paintings, particularly in his earlier pre-war landscapes; Picasso was known to say that, "when [he] was a child, [he] could draw like Raphael. It took [him] years to learn to draw like a child." While he never admittedly embraced children's motifs in his work, he was known to follow, with interest, the drawings of his own and other children. Ironically, it is to certain aspects of Picasso's oeuvre that the attribution of 'childlike' is most frequently applied. This is clearly unwarranted, as the complexity of his imagery is often veiled in the appearance of simplicity, even crudeness. These characteristics of seeming spontaneity and simplicity-of-line took him, as for most artists choosing to work in this style, years to perfect.                         
 Joan Miro and Paul  Klee are often seen to work in a 'childlike' style of simple geometric forms and scattered, gravity-defying figuration. For Klee (see above, Angelus Novus, 1920), as Fineberg points out, "the discovery of a set of his own childhood drawings set him on a path of cataloguing 'these primitive beginnings of art'… and to have them serve, in part, as coordinates for his own mature artistic journey." For Miro, on the other hand, the author notes that his fascination with the drawing of his own daughter, born in 1930, held him spellbound. Unlike his own childhood drawing, which lacked spontaneity and exuberance, Miro spent his lifetime trying to recapture the direct connection to the subject that he believed characterized children's art. As he told the French art critic, Dora Vallier, "The older I get and the more I master the medium, the more I return to my earliest experiences. I think that at the end of my life I will recover all the forces of my childhood."                         
It can certainly be said that, as the 20th century progressed and the post-World War II period ushered in the Abstract Expressionists like Pollack and de Kooning and Rothko, the art of throwing, dripping, splashing and troweling paint onto canvas in gestures befitting the most aggressive child reached a high point. The expressive immediacy of deliberately 'bad art' can be seen in later works by Jean-Michael Basquiat, Karel Apel, Phillip Guston and Jean Dubuffet. The point of their work is not to flaunt the rules learned as a result of years of art training, but to apply those skills in emulating the experiential directness and unfiltered sensations of a child's perception of the world.                         
Their bold attempts at the mastery of naïveté could only be approximations of the truth, as seen through the eyes of a child. Over the generations of the modern and post-modern period, artists have embraced the knowledge that their work can only be a simulation of the vivid reality and unfiltered consciousness of childhood. And every artist has understood that there is no returning.                         
by Richard Friswell, Executive Editor                         
Reference: Jonathan Fineberg, The Innocent Eye, Princeton University Press, 1997.                         
June 30, 2010                              
Publisher's Note: This Blog post, submitted to ARTES by one of our regular architectural contributors was just so humerous and quirky, that I just had to share it with my readers:                                  
ProperEnglish, as in "Crikey, It's the Loo!" 
Author's note: British-isms in the text, such as theatre, are bolded; translations, when deemed necessary, follow in parenthesis – for example, bingo wings (flabby underarms, a ssociated with elderly denizens of gaming parlors).                                 
 Our guide, a tiptop British architect from Hopkins Architects of London, was showing us Yanks, Mark Simon and me of Centerbrook, several buildings that her firm designed in Nottingham, England (yes, as in "Sheriff of").  Centerbrook and Hopkins would be working together on Kroon Hall, the new home of Yale's School of Forestry and Envi ronmental Studies.  Within our half of the collaboration, Centerbrook was tasked with, among other things, translating British architecture into an American context.                                 
I was aware that Hopkins' portfolio bristled with impressive green architecture – vegetated roofs, mixed-mode ventilation, wind cowls, and the like – but our guide kept referring to the Plant Room on the roof.  No greenery or greenhouse, however, was in evidence up there.                                 
After three mentions, I had to ask.  It turns out she was referring to the Mechanical Equipment Room, or MER, as we call it stateside.  The difference between our two cultures, architecturally speaking, would prove to be greater than I had imagined.  It was all a tad dodgy (tricky or suspect) at first.                                 
Yale had selected Hopkins out of six shortlisted firms known for their experience in sustainable design (Centerbrook also was shortlisted).  Kroon Hall would be a symbol of Yale's commitment to the environment and achieve the highest levels of sustainability, a LEED Platinum rating.  Because Hopkins had only built one project in the United States, the university wanted an experienced American firm to assist them as the Executive Architects.  So the marriage was arranged between us and the Brits.                                 
Hopkins is known for designing low energy, high performance buildings, with a commitment to an honest expression of materials in a modern idiom, using systems, materials, and detailing developed in Europe, but new to the U.S. market.  One of our tasks was to make plans and documents comprehensible for American contractors and suppliers.  This entailed translating Brit-Lish into Amer-English.                                 
Mind the Gap! (Watch Your Step, More or Less)                                 
 I thought it would be easy at first.  Centerbrook has done some international work, and I have travelled a fair bit throughout England and Euro pe.  I fancied that I was familiar with British-isms: WCs (bathrooms), lifts (elevators), colours, carparks (parking lots), smashing (jolly good), to name a few.  But when it came to architectural terms, there was a whole new lexicon to master.  We, and the project, could easily have fallen through the gap.                                 
What in the Sam Hill are lippings, we beseeched?  Answer: trim.  Conversely, our colleagues from across the pond were anxious to know who, precisely, Mr. Sam Hill would be.                                 
To compound matters, the Kroon Hall team included architects and engineers from Arup and atelier ten, each sporting a variety of accents from throughout the former empire, among them various American dialects.  Also, because construction practices, procurements processes, and tight budgets and schedules would not allow a typical Hopkins building here, adaptations had to be made.  Bespoke (custom made) elements were limited, so noble substitutions were found for Hopkins favourite items, while at the same time we were educating local contractors on the fundamentals of Brit-Lish: fittings (fixtures), skirtings (base trim), totems (bollards, or short vertical posts), and a bit of kit (equipment).                                 
Cockups (Blunders) and Silly Buggers (Foolish or Irritating People)                                 
To avoid committing, or being the abovementioned, we decided early on that our Title Sheet for Construction Documents should include a British-to-American Terminology Legend.  This included 35 terms used by Hopkins and Arup in their drawings followed by the closest American translation, plus those blinking (damned) metric units.  After a while we got the hang of it – 100 millimeters equals a little less than four inches.  A wee bit is a quarter of an inch, or thereabouts, close enough.  A pint of bitters is way bigger than a pint of Bud.  We took to keeping a running list of all unknown terms as they came up, not just the architecturally-related ones.  Some were a wee facety (a little rude).                                 
Local Cuisine                                 
We had to eat while we were in the United Kingdom, where we ingested succulent delicacies like Treacle Sponge (Steamed Sponge Cake with syrup or molasses cooked on top, often served with hot custard) and Spotted Dick (Steamed Suet Pudding containing dried fruit, usually currants, commonly served with custard).  And you thought suet was for the birds!  I'll never forget mushy peas and rocket (a porridge dish and arugula), or nose and tail (often accompanied by jellied eels is all you need to know).  We Centerbrookians will always have Fitzrovia, where we ingested pie (meat, not fruit) and pudding (dessert) at a friendly boozer (pub).                                 
A Proper Aedifice                                 
For all that potential confusion (and indigestion), the completed building turned out to be a spiffing (excellent) synthesis of the two cultures.  Yale accomplished its goal of erecting a flagship building equal to its environmental ambitions.  Hopkins was satisfied that Kroon Hall aptly represented its design and sustainable philosophies.  For Centerbrook, not only was it a great opportunity to work on a significant piece of architecture, but it was also a chance to participate in a cross-cultural exchange of ideas and methodologies – a touch of Uncle Sam here, and a good bit of John Bull there.                                 
Brilliant! (cool, awesome, sweet!).                                 
by Jim Coan, AIA                                 
Jim Coan is the Director of Architectural Practice and Building Science at Centerbrook Architects.  He has been the Project Manager for a number of the firm's larger projects including Kroon Hall at Yale University.  In his career Jim has, only on rare occasions, found it necessary to use a dictionary to translate architectural terms.                                 
June 11, 2010                                       
Connecticut Art Trail Offers Strength in Numbers
 A reoccurring theme at this year's Museum Association annual meeting, held on the West Coast, was cooperation. In these difficult economic times, it is more important th an ever for institutions to band together to more effectively and efficiently compete for the public's attention and vital revenue. Across the country the issues are essentially the same. But given the universal scope and scale of the challenge, responses tend to vary widely. For a culturally-diverse community like Los Angeles, with more than forty museums within the city's limits, the need to find common ground and related exhibition themes is essential to bringing people to their doors and vital young membership to their rolls. For many far-western and less-centrally located museums, the priority is outreach and cooperative programs with other cultural and educational institutions in the region, where a shared cultural legacy or historical narrative, with its associated artistic heritage becomes the 'take home message.'  Fine Arts Magazine                                     
 Back East, the mood is a different one. Large urban art institutions continue to set the tone for ground-breaking and innovative exhibitions featuring, in many cases, the giants of the western European art movements of the last two centuries, as well as a cadre of emerging and established artists who stand at the center of the contemporary art whirlwind. Directors and curators vie for high-profile names and regularly march out portions of their vast permanent holdings, mixed with famous and not-so-famous works on loan, to drive home a curatorial message. With currently-planned expansions of the physical plant more the exception than the rule now, the emphasis for many institutions is to achieve a Wow! Factor in the absence of dramatic new accommodations.                                       
In Connecticut, at least, there is one important exception to the temptation to draw back and hunker down. With a rich heritage of art production that dates back to the founding of the country in the 18th century, the state's museums have often acted as repositories for some of the most famous and beloved works of art by American artists known today. While frequently traditional in nature (American Impressionism was born in Connecticut), a new generation of institutions has appeared on the scene, representing the contemporary art world in a thoughtful and dynamic way. The Connecticut Art Trail is a coalition of 15 museums and historical settings which run the gamut from one end of the state to the other and from Old Masters of the 16th century to Conceptual artists of the 21st.                                       
 Founded in 1995 as the Connecticut Impressionist Art Trail, within recent years the organization has redefined its objectives and broadened it s cultural horizons. Under the  guidance of Sandy Betner, who was hired as executive director four years ago, and an active board, the mission of the 'Trail' has been strengthened and redefined. "We are passionate about partnering," Sandy tells me. "Being inwardly-directed if you're an art institution is passé. In order to survive in this market, with so many high-tech products competing for the hearts and minds of the younger visitor, becoming outwardly-oriented just makes sense. We have studied the data and know that people are looking for value when they travel. They don't want to spend hours in the car to come to just one place and not be offered a range of things to do once they get there."                                       
Working closely with the Connecticut Department of Culture and Tourism, Sandy and her team determined that many families travelling for fun or couples getting away for a weekend expressed a desire to have a 'cultural experience' be part of that journey. What the 'Trail' then did was to: group institutions that were part of the association by state region, combine them with other experiences (dining, attractions, lodging, sporting venues) and put mileage designations between these attractions (GPS co-ordinates are on the drawing board for the near future). Travel packages were then created, with hotel discounts and suggested itineraries. A dynamic Web site, featuring links to all of the museums and historical stops along the way is being regularly updated. "We want the museum experience to be fun and enlightening. We suggest that the museum staff take a step back and look at their facility from the visitor's po
int-of-view. While museums used to be visual experiences, they are now more interactive. Our goal is to offer something of interest for all ages."                                       
The on-line visitor has the option to purchase an Art Pass for $25. This represents a $75 value and allows the purchaser to visit all 15 museums on the trail for any two-month period they choose. Children under 12 are free, when accompanied by an adult. Art Passes can be purchased on line at www.arttrail.org.  "There is strength in numbers," Sandy says. "We've known that basic fact for a long time. We have had good results applying that concept to the state's wide range of world-quality museums."                                       
May 13, 2010                                        
Finding the Unexpected: Art in Everyday Life
Image and irony. Culture and Kitch. The art of the unexpected and the humorous.  Let's take some time out from the serious business of art to visit a few sites in the world where art amuses, installations are enigmatic and a photographer's lens is aimed at others; but we are, in fact, his subject:
This sight can be found close to the Interstate in Florida.  It's an attention getter aimed at selling something. Can you guess what?                                          
This astounding array of lost luggage is stacked to the ceiling in the Sacramento airport.  Rather than a baggage cart gone astray, it is a sculptural installation, 'Samsonite', by an unnamed artist who may have spent a bit too much time in airports and wants to get even with the system. Fine Arts Magazine                                          
Here, the life guard on duty keeps watch over his flock.  He stares at the horizon…the horizon stares back. But, hey, this isn't what Baywatch is supposed to be and where's Pamela Anderson?ine Arts Magazine 
Staying dry and hoping a cab will come by. I wonder if the artist is doing a water color? Fine Arts Magazine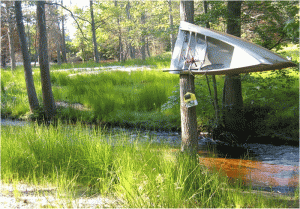 Can you canoe?  An aluminum canoe was ripped from its dock by a raging flood and sculpted to the tree by its force at the high-water mark.  This New Jersey town left the installation piece in place as a memorial to the day their quiet stream burst its banks.
The entire staff at ARTES Fine Arts Magazine thanks you for you support.  Consider this your invitation to our next Holiday party.  A big company smile goes out to All!Fine Arts Magazine                                           
French Impressionism Shares a Key Feature with American Impressionism
Is light the unifying element in these schools of painting?
 The short, obvious answer is, yes…and the impact of light on the final result can vary dramatically.                                                
Many painters promote themselves as 'painters of light'. The simple reality is that without light, there would be no subject matter to paint. Even non-objective painting relies on the play of color (light waves across the visible spectrum) in contrasting and complimentary combinations to reach your eye and attract your attention. The minimalists, too, voided their canvases of most chromatics as a way of saying, "Hey, look what's going on here…no color!" Color theory was thus being leveraged, in that case, by virtue of is conspicuous absence.                                                
 So, light has served as an important compositional element in painting, especially since the Renaissance, when the use of light effects became essential for the portrayal of perspective and dramatic human action as an indispensible part of the artist's skill set. But not until the mid-19th century, when we entered the period of early modern painting, did the use of light effect in painting take on bold new meaning. For the Impressionists, painting en plein air meant that light was to become a central element in their work, rather than a studio technique to achieve dramatic highlights. Their fractured brushstrokes, flattened perspective, chiaroscuro-style paint application and indistinct rendering of central subject matter meant that light had to be deconstructed in the artist's eye (and mind) and then reassembled on canvas in its component parts. So, the compositional or spectral elements of the light they were enveloped in as they worked became a critical factor in defining the finished product.                                                
Thus, the question needs to be asked: Was the light of provincial France an essential and critical element in the production of a style and body of work we now call Impressionism; or could it have happened anywhere?                                                
 Drawing on the lessons learned in another part of the world where Impressionism flourished in the years that followed the French movement, we turn to New England and the American Impressionists: J Alden Weir, Childe Hassam, John Henry Twachtman, Charles Davis and others. From two of these communities of artists who gathered to paint and critique one another's work in Old Lyme and Cos Cob, Connecticut, we have a genre that closely approximates the experiences of the French Impressionist masters as they painted in the changing light of the day and the seasons.                                                
 The unique feature of Connecticut shoreline light is the moisture-saturated nature of its proximity to the sea. The humidity and air-borne particles of water prevalent near bodies of water make for denser air, thereby softening detail in the viewer's eye. It also makes for richer colors in everything they saw there, especially warm whites, reds and yellows. This same effect can be found in the South of France, where the prevailing North African winds (seasonal mistrals) blow Mediterranean sea air far inland. As painters, they would have seen similar color saturation on their Grand Tours of Italy's Tuscan Region and the Cote d'Azure in France—also close to the sea and similarly affected by prevailing breezes. By contrast, the light in the mountainous regions of the Alps or the American West would be crisp and dry, heightening the effects of cool blues, purples and greens and preserving detail, even over great distances.                                                
Claude Monet studied these light effects and produced a well-know series of  paintings of Rouen Cathedral, where the impact of time-of-day was a key factor in his use of color and shadow. Identical subject matter seems to shift and change shape from morning, to mid-day, to evening in these works. A similar examination of light's impact on a subject can be seen in his 1892-4 series of paintings of hay rooks. Monet repeatedly set up his easel in an open field, overlooking the pastoral scene. There, he worked on multiple canvases, over the course of many months, to painstakingly record the changing effects of light on the façade of his now-famous subject.                                                
For a Connecticut artist like Childe Hassam, light play was an essential element in achieving a sense of intimacy between their subjects and the viewer. Interior spaces where filled with the warm light of summer, offering as much gravitas as the other physical objects in the composition. The female figure, painted outdoors in the dappled light of a garden landscape achieved an intimacy and vibrancy that is immediately associated with the warmth of human flesh. Nature and humanity are merged.                                                
Light and form, form and light: the two essential and inter-related components of art that define the third essential—emotional impact. -RF                                                
*      *       *     *      *                                                
What I did for love! 

  
There are so few occasions in life when you can truly say that, 'you did it for love'. The experience of falling in love with an original work of art, together with those other moments when Cupid's arrow strikes home, for most of us, can be counted on one hand. Wives, children, automobiles, jewelry, beautiful homes and exotic vacation spots can all evoke rapid heart palpitations and deservedly so. But surely, few of these earthly pleasures endure without a commitment from each of us to carry them close to the core of our being. And none certainly compares to a loving family and the life partner who made that all possible with you. Children too, are a perpetual blessing that evoke emotions that often exceed our wildest expectations (sometimes in ways we hadn't counted on!).                                                   
I often point out in my lectures that art is a fickle mistress, for whom mutual appeal and attraction can change on a dime. With so many artists in the world and so much art to choose from, how does one go about selecting the right piece for you? This question becomes much more complex when considering market trends, artist reputation, auction activity and, for that matter, global markets. My advice: shut all of that out and buy what you love.                                                   
Art endures. It carries us, like only family can, because it serves as a constant reminder of how precious and beautiful the world can be when we a
re in the presence of an object created merely for its own sake. Art has little or no utility, in the absolute sense. It exists to give us joy. Few things are valued and passed on after we go. The house and cars are sold, the furniture discarded, clothing given away, the jewelry and silver divided up.                                                   
But good art persists. It may be gifted to museums or collections for future generations to enjoy. It soon enjoys a place of honor in the home of the next generation. Its message gets stronger with the passage of time; its colors and composition never get tired or commonplace.                                                   
Love endures beyond our years here on earth in the memories of our loved ones. Art can deliver a timeless message that serves as a symbol or beacon of our good taste, our values and our commitment to surround ourselves with the very people and objects that truly matter. Art, like love, is eternal.                                                   
 For Kathy, with love                                                   
illustration: detail: Gustav Klimt, The Kiss (1907-08); William-Adolphe Bouguereau, Cupidon, 1756                                                    
*     *     *     *     *                                                   
Water on the Moon 
Water is heavy. Anyo
ne who has traipsed a 24-pack of bottled water from the driveway to the house knows just how heavy water can be. Water is essential to this planet and life-sustaining for those of us who live on it.                                                  
The recent indignity suffered by the moon at the hands of scientists attests to how important finding water on a distant planet or moon is to our chances of successfully traveling there and thriving once we arrive. Astronauts can recycle their waste water on the way, but lugging a supply of H2O across the vast expanse of space to meet our needs for months or years is both costly and cumbersome (imagine the fuel costs and handling issues if you carried a 400-gallon drum of water in the trunk of your car!). An elementary problem like sustained hydration becomes a major concern for NASA scientists.
For those of us who are earth-bound and plan to continue to be so, what can the quest for water on the moon teach us about ourselves? As artists, we hope to communicate vital information through our work across the seemingly boundless void between ourselves and the 'dark side of the moon', called, public perception. And what constitutes sustenance for artists while they work? Sure, food, clothing and shelter—the wellspring of life as we know it on this planet. But, what else drives us to create as a means to those practical ends?                                                   
Our own person
al version of a moon probe happens when we send our latest work on a trajectory out into the world. And, for the artist, analysis of the 'six-mile high spray' at point-of-impact takes the form of the response of critics, gallery owners, collectors and editors who stand by, binoculars and notes pads at the ready. Everyone watches and waits to see if there are life-giving elements in the work and whether a spur of interest can move the viewer to explore, in depth, the various complexities of the piece and their meaning. For a few lucky artists, pioneering colonies of believers may soon set up encampments over these small, life-emitting oases of earnest intentions, known as the 'artist's vision!'                                                   
For artists of any stripe, we harbor a shared belief in the universe of ideas. All things are possible in the world of the imagination. There is no out-there, out there. It is all in here. The studio version of a moon probe is wet paint poised on a brush before a blank canvas; a pencil hovering above a clean sheet of paper; or restless hands poised on the silent keyboard of a grand piano. Through our creative effort, we hope to find water, insuring that our journey can be sustained. We are hoping against hope to find signs of life.                                                   
by Richard Friswell                                                  
*Art by Roxanne Faber Savage                                                   
'The Journey'
My tiny capsule                                                   
tumbles end over end,                                                   
flung into darkness,                                                   
charting the empty void.                                                   
Skirting the edge                                                   
of pumice moon                                                   
held by pull of orbits,                                                   
to pass behind its sheltering face.                                                   
Man-in-the-Moon stares                                                   
with indifference.                                                   
Curled like a fist,                                                   
wide-eyed,                                                   
shallow breathing                                                   
and pounding heart                                                   
give voice to the fragile life within.                                                   
Only the pulse of suns                                                   
and velvet depths of universe                                                   
hold me                                                   
for God's own hand to safely deliver.                                                   
-rf                                                   
*Original art by Roxanne Faber Savage: www.roxanneprints.com                                                   
Lunae M, mixed media, 2008                                                   
Plastic Moons 1, paper lithograph, 2007                                                   
 Swimmer 3, Monoprint, 2007                                                  
*     *     *     *     *                                                  
Can We Say, 'Primitive'?
In the 1990s, I recall watching Sister Wendy Beckett, the reluctant celebrity spokesperson for a popular PBS series on art appreciation. This sequestered nun, who for decades had lived under a vow of silence, had gained notoriety for her views on famous works of art and now stood in her nun's habit waxing vociferously before the prehistoric Altamira cave paintings. Self-taught and passionate about the history of art, she gestured at the figures of stampeding bison and elk behind her and said, "These images are 15,000 years old. In the millennia that followed, art didn't get any better than this, just different."                                                  
In a few words, she summed up the argument for why we should not apply the word, 'primitive' to any artistic or material object from cultures far removed from our own tastes and values, simply because we do not understand them.                                                  
On this, All Saints' Day (November 1st), cultures throughout the world travel to cemeteries to celebrate the lives of deceased loved ones and ancestors, long-dead. It is a joyous event, with food shared and offered up and tender care given to the graves of the deceased. As hard as this may be to understand, are these rituals anymore primitive or morbid than our pagan celebration of Halloween the day before?                                                  
So, as we seek to understand the art and cultures of other peoples, especially in this period of inclusivity in our own history, where does the word 'primitive' fit in our lexicon—or does it at all?                                                  
Nineteenth century adventurism and usurpation of far-flung lands led to many abuses. Western cultural ethnocentrism and misogyny, combined with common practices of tomb raiding, careless and heavy-handed archeological 'digs', amounting to blatant theft of cultural artifacts, led to the unregulated and unquestioning sale of untold priceless artifacts to countless private collectors and newly-founded museums in many western countries.                                                  
These illicit activities had the effect of bringing to public attention new categories of art and artifacts that defied aesthetic understanding and categorization, under conventional Western terms. The word, 'primitive' was often used to describe objects of great inherent beauty and value, but, as it happened, just not to those currently in possession of them! It became a term that was applied to cultural artifacts that people were seeing, but not understanding. The rich symbolism, iconographic significance and ritualistic import of these art forms were left behind, as surely as the societies from which they had been taken.                                                  
Only with the increased awareness that the emerging field of cultural anthropology brought to the table in the mid-twentieth century, did questions begin to be raised about the possible inherent beauty and significance of these plundered treasures, culled from worlds so far apart and unfamiliar from our own.                                                  
H.W. Janson's well-know 1962 text, 'History of Art', devotes nine full pages to a discussion of 'primitive art'. Featuring mostly African, Inuit, Pacific islands and native American sculpture, Janson's narrative is a compelling and useful read—because it offers what I believe is a helpful definition of what 'primitive' is and how it can be independently and respectfully applied to cultures, separate from their art forms, in various parts of the world.                                                  
Thus, Janson defines 'primitive' in a social/cultural context as; "societies remote, isolated and set apart physically from the rest of the world; using Stone Age or ancient tool methods; rural and self-sufficient; tribal, not city-states; without written records, thus, ahistorical; static, not dynamic or progressively expansive; defensive toward outsiders and favoring ancestral worship."                                                  
This behavioral definition, while largely outmoded in today's world of global interconnectivity, sheds light on a useful distinction between a cluster of societal postures that make for a collective identity, on the one hand, and the art and artifacts produced by those same societies, on the other. Though socially isolated, this particular definition does not detract from the fact that these 'primitive' communities may be capable of creating objects with all the inherent qualities of beauty, form and balance that rival objects more familiar to our Western eyes. Thus, primitive is a term reserved for the chosen lifestyle of selected cultures or peoples, not necessarily for their material output.                                                  
By the early 21st century, many art history texts had had relegated any discussion of 'primitive' to the primitivist movement of the early modern period. Then, artists like Erich Heckel, Karl Schmidt-Rottluff and Henri Rousseau sought to capture the simplicity of form and composition seen in works from Africa, Columbian America and the pacific islands, as well as children's art, folk and naïve art (now called 'outsider art') and even that of the mentally ill! Like other artists of that time (including Picasso), there was a shared assumption about the primal authenticity and purity of form that elevated these foreign objects to the realm of the mysterious and iconic—yet another likely disservice to their practical and functional indigenous origins.                                                  
So, elegant art and artifacts can emanate from so-called primitive cultures, although fewer such societies functioning in isolation from the rest of the world exist today. It is important to note however, that their art is not, by definition, primitive. Our view of it may be affected by our own ignorance or misinformation, but not necessarily by any limitation in their vision or ability to convey symbolic meaning through the objects they, themselves, value and revere. -RF