The Folger Shakespeare Theatre in Washington, D.C., has opened its 2019-20 season with a production of Henry IV, Part 1. The theater describes the play as a "layered coming-of-age tale of power, rebellion, honor, and redemption." It's actually much more worthwhile than this pro forma statement.
As it happens, Henry IV is worth attention because it is timeless. King Henry (played by Peter Crook) comes to power by murdering his predecessor, Richard II. He now faces the enormous task of attempting to unify a 14th century nation that exists in chunks: there's England, but there's also Wales, Scotland, and Ireland—not to mention the lure of plucking off such European countries as France. Henry's ambitions are nearly as grand as Victoria's would be centuries later, and his burden (as was Victoria's) to find strategies for acquiring diverse populations. Conquest was one thing, but a nation needed to be built, not simply acquired. The idea of "E Pluribus Unum" was essential long before it became the motto for the young American republic.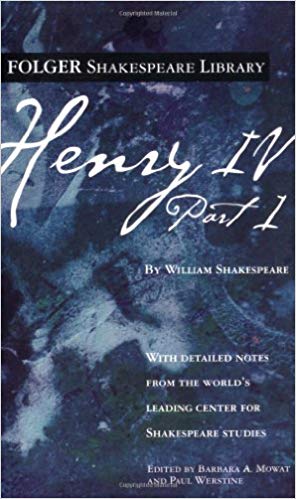 The singular performance that makes this Henry rise to brilliance is that of Edward Gero as Falstaff. Gero is a beloved Washington actor who has four Helen Hayes Awards to his credit, and whose roles have ranged from Scrooge to Rothko to Scalia, and from Shakespeare to Sweeney Todd. He has been in previous productions of Henry IV as the King, as Worcester, and as Hotspur. But this is his first Falstaff, and it as if he were born to play this Rabelaisian, larger-than-life character.
Gero refuses to wear the padded costuming many Falstaffs have donned, calling the fat suit a "shell" that would interfere with his focus on character—though he admits to happily "eating my way through Italy" in preparation. He views Falstaff as "a guy that was once someone of repute," but whose life has descended into eating, drinking, and debauchery. "He's one of the great roles," Gero muses, noting that however immersed in broad comedy, it is also a role evoking great pathos. Ultimately, he sees Falstaff as a man "who, at the end of his life, is craving more life." (Gero quoted in METRO WEEKLY, 10/3/19)
While war and rebellion consume the King's attention, his son Hal (played by Avery Whitted) ignores his father and becomes Falstaff's great buddy drinking and carousing in seedy Eastcheap saloons. These environs are a world away from the Royal Court, and Shakespeare depicts their marginal existence and vivid characters with gusto. But as becomes clear, here is yet another world that the King will need to win over if he hopes to unify the country.
Sara Ryung Clement's sets convey these disparate worlds by presenting them as an evolving construction site: the opening scene spotlighting Henry's throne, for example, morphs into the communal table at the Boar's Head tavern. Lighting Designer Jesse Belsky uses fluorescent tubes that emanate differing neon colors throughout the production, and Kathleen Goldard's costumes suggest a silhouette of the period but with such contemporary touches as camouflage pants. The idea of battle is conveyed by Alice Gosti's gymnastic choreography that moves from one fighting aerobic stance to another, and Palmer Hefferan's original score is convincingly bombastic, with base notes rattling everyone's sternum to signal the onset of BATTLE!
The whole atmosphere portrays political and social chaos—of disparate worlds, relentless rebellions, and irresponsible behavior. How could Henry possibly "unite" such a conglomeration into a kingdom?
Shakespeare at least offers a tidy resolution, with Hal giving up debauchery and becoming a warrior worthy of being a king. He wins his father's respect when he kills the once-favored, but now turncoat Hotspur in a battlefield victory.
And Falstaff? When faced with enlisting in the King's war to keep Hal's Royal friendship, Falstaff asks, "What is honor?" He ridicules the ideal of heroic manhood and dismisses "honor" as a mere word filled with "air." Forced to go into battle, he feigns being struck down—but then sneakily gets back up and stabs Hotspur again, telling Hal that Hotspur had not died until he, Falstaff, finally killed him off….
Overall, the cast is fine. Peter Crook's King Henry finds a stronger voice as the play goes on, and Prince Hal is by turns amusing and, in the end, worthy of becoming the future King. In a play that revolves around manly notions of power and war, Kate Eastwood Norris's Mistress Quickly gives a welcome trumpet blare to the idea that women were essential to the welfare of the kingdom as well.
But the show belongs to Falstaff, and Ed Gero owns the stage whenever he appears—which, thankfully, is often. His bravura performance is all-stops-out and memorable. Falstaff would rob his best friend and then snigger off clicking his heels, but with Gero's deeply human touch, you embrace the rascal—weaknesses, foibles, and all. The audience cheers when, after dismissing "honor" he declaims "Give me LIFE!"
The essential question of nation-building was as true in Shakespeare's time as in Henry's. How does a leader merge diverse ethnicities, religions, languages, and customs into a "United Kingdom"?
At the end of this play, the King, Prince Hal, and Falstaff march off to conquer the vast outskirts of an envisioned kingdom. But once conquered, how will these various populations be bound together? Shakespeare's timeless question was as valid in earlier times as it is in the age of Brexit.
By Amy Henderson, Contributing Writer
Henry IV, Part 1 will be at the Folger Shakespeare Theatre through October 13, 2019. www.folger.edu/theatre.
Amy Henderson is Historian Emerita of the National Portrait Gallery