The Smithsonian's Freer/Sackler Museum has opened a stunning exhibition that showcases the Empresses of China's long-lived Qing Dynasty (1644-1912).  A collaboration with the Peabody Museum and Beijing's Palace Museum, "Empresses of China's Forbidden City" is intended to address the neglected history of these women: the press release argues that "male officials who wrote Qing court history recorded very little" about the Empresses' activities, and this exhibit is meant to tell the little known stories of how these women lived and how they influenced politics and international diplomacy.
Above, left: Empress Dowager Chongqing at the Age of Eighty, Ignatius Sichelbarth (Ai Qimeng, 1708–1780), Yi Lantai
(act. ca. 1748–86), and Wang Ruxue (act. 18th century) China, Beijing, Qianlong period (1736–95), 1771 Hanging scroll; ink and color on silk
Palace Museum, Gu6453 © The Palace Museum.
The exhibition is the largest organized by the Sackler in a decade, and is organized into six major categories: "Becoming an Empress," "Ascending the Throne," "Fulfilling Family Roles," "Celebrating Motherhood," "Worshipping as an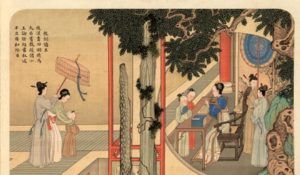 Empress," and "A Rich and Active Life."
Right: Virtuous Empresses and Empresses Dowager in
Successive Dynasties
Jiao Bingzhen (ca. 1660–1726)
China, Beijing, Kangxi (1662–1722) or Yongzheng
(1723–35) period, early 18th century. Album leaf; ink and color on silk
Palace Museum, Gu5632 © The Palace Museum
The overwhelming visual impact is of incredible opulence. The Empresses were the top of a harem pyramid: every three years, the Qing Emperor would select a new young wife who would assure the royal succession by producing a male heir. The Emperor had several wives, and one would be selected "Empress."  Her main job in addition to producing an heir was to oversee the eight levels of imperil women that included consorts, concubines, and special servants.
To convey rank within this complex harem pyramid, women wore particular jewelry and clothes: the Empress was connoted by the color yellow, and by the use of the phoenix icon. The exhibition radiates with imperial portraits, artifacts, clothes, and jewelry that transmit an Empress's glowing significance.
Below: The Five Empresses of China, still shot from museum exhibition video
The Emperor's mother, the Dowager Empress, was ranked even above the Empress in the Qing patriarchal hierarchy. The most important Dowager was Cixi (1835-1905), who was the de facto ruler of the Qing court. As the curators explain, Cixi "brought changes to the role of women in court politics, diplomacy, and art patronage."
Cixi was unique in her ability to wield power—most of the Qing Empresses functioned to produce heirs but were otherwise little more than decorative objects themselves. It is clear that the exhibition is not intended to elevate the Empresses into a modern feminist sensibility: they were what they were, and this exhibition—which jangles by being so willing to accept them as lovely artifacts—is itself a very traditional exercise in connoisseurship.
*     *     *     *     *
Like the Qing Empresses portrayed at the Freer/Sackler, the National Geographic Museum in Washington has also opened a major exhibition about historic imperial women. But unlike the Qing Empresses, "Queens of Egypt"
focuses on the many queens who ruled as pharaohs for over 1400 years, from Ahmose-Nefertari in the New Kingdom (1539-1514 B.C.) to Cleopatra VII (51-30 B.C.)
Left: The Goddess Mut, Limestone, Unknown provenance, New Kingdom, early 19th dynasty (ca. 1292–1250B.C.) The goddess Mut reflected all three aspects of women's lives in ancient Egypt: fertility,motherhood, and domesticity. She was a queen among goddesses and a role model forthe earthly Egyptian queens. Photo courtesy ofMuseo Egizio, Turin
In addition to a focus on women who wielded power, the National Geographic exhibition uses an interactive approach that integrates more than 300 artifacts from important world collections such as the Museo Egizio in Turin, Italy,  with a variety of multimedia experiences that allow visitors to interact and engage directly with history.  One of the most extraordinary of these experiences is an immersive 3-D theater that museum director Kathryn Keane says "will transport
you on a virtual journey through Queen Nefertari's tomb." (exhibition brochure, p. 5).
Right: Changing Headdresses of Queen Tiye. Clay and other materials, Modern Reproductions, Rijksmuseum van Oudheden, Leiden, Netherlands. Photo byCaroline Thibault.
How do 21st century museums attract and engage contemporary audiences? For some visitors, beautiful objects are the primary consideration: their priority is to embrace museum experience through connoisseurship. But many visitors today expect to be more involved, and the National Geographic's commitment is to explore exciting new ways to teach us about our shared human journey.
By Amy Henderson, Contributing Writer
Amy Henderson is Historian Emerita of the National Portrait Gallery
EMPRESSES OF CHINA'S FORBIDDEN CITY, 1644-1912. At the Freer/Sackler Museum through June 23, 2019.   asia.si.edu.
QUEENS OF EGYPT. At the National Geographic Museum through Sept. 2, 2019. natgeomuseum.org
Above: Ring Decorated with a Scarab, Gold, Provenance unknown, New Kingdom, 19th dynasty or later (ca. 1292 B.C. or later). This finger ring has a scarab shaped bezel thatcan swivel. The inscription reads: 'Mayyou become a praised one, enduring in the temples.' Photo courtesy of Rijks museum van Oudheden, Leiden, Netherlands