The meticulously curated Giacometti exhibition on view at the Guggenheim Museum spans the artist's early years during his involvement with the Surrealist group (1920s) through his later period when he became associated with the French Existentialist movement in the 1940's. The exhibition is organized by Megan Fontanella, Curator, Solomon R. Guggenheim Museum, Catherine Grenier, Director, Fondation Giacometti, Mathilde Lecuyer-Maillé, Associate Curator, Fondation Giacometti, and Samantha Small, Curatorial Assistant, Solomon R. Guggenheim Museum.
Above: Alberto Giacometti – Walking Man I (Homme qui marche I), 1960. Bronze, 180.5 x 27 x 97 cm. Fondation Giacometti, Paris © 2018 Alberto Giacometti Estate/Licensed by VAGA and ARS, New York.

Alberto Giacometti is thought in many quarters to be the epitome of what has come to be considered a "fine artist." His practice is highly focused and selective, extremely decisive yet open to the messages his subjects transmitted to him. One might infer, based on the intensity and angst of his art, that Giacometti was a loner, someone who was prey to anxiety and strain; yet in fact it seems the he was socially connected with friends he saw regularly, he was a married man, and he was an artist who worked diligently in his studio,
often into the depths of the night, habitually from a model.
Right: Henri Cartier-Breson, Alberto Giacometti.
That Giacometti's art is unique and insightful is well established; he gained inspiration from the art of Oceania, Egyptian art, Cycladic art and the art of Africa. It is possible that he was inspired by the physical stature of the Watutsi tribe of Africa that bears a strong resemblance to the artist's fragile, slender "walking" and "standing" man images. His bond with Egyptian art brings a special emphasis and spirit of the divine to his artwork. His "Standing Man" bronzes, attenuated into apparently tormented refashioned forms, appear free of all but vital, enduring elongated spirit. An inventive diversity of scale plays an important part in his art; some of the heads are very small, bordering on the minute, while other standing figures, legs fused into one form, present themselves as much more statuesque than their actual height implies. The power of the pale plaster pieces is relatively diluted compared with the impact of the regal black bronze works. The artist was drawn to the teeming energy generated in city squares; his figures walking through plazas seem optimistic and purposeful as they pass close by one another, free of distracting concerns of the moment. Giacometti's compelling series of maimed broken busts, with forms cut at the shoulders, all have heads that resemble regenerated tribesmen who have endured the ordeal of a rite of passage. With some exceptions, Giacometti's art encapsulates the post-war era
of fear, in which the planet was threatened by the prospect of a nuclear holocaust.
Left: Alberto Giacometti – Nose (Le nez), 1947 (cast 1949). Bronze, wire, rope, and steel, 81 x 71.4 x 39.4 cm. Solomon R. Guggenheim Museum, New York © 2017 Artists Rights Society (ARS), New York/ADAGP/FAAG, Paris.
The revealing documentary film on view, by Ernst Scheidegger, features Giacometti in his studio as he works from a model before public scrutiny; his art revolves ostensibly around the theme of visual perception. In his practice he tries adamantly to reproduce the entire subject faithfully, but the more scrutinizing he becomes, the more impossible it is for him to capture the figure in its entirety, true to its visual scale. The torso may become massive in relation to a head, which has become increasingly flat in front but wide to the side. He works obsessively with the goal of total truth in the rendering of his models. Through his probing, deliberate and searing search for perceptual authenticity, he finds a working method that enables him to achieve a result that replicates the process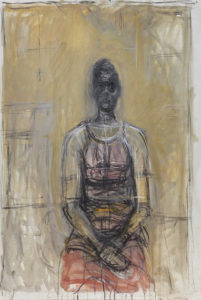 of the strengthening of the spirit that is at the core of earthly existence.
Right: Alberto Giacometti – Caroline in a Red Dress (Caroline avec une robe rouge), ca. 1964–65. Oil on canvas, 92.3 x 65.4 cm. Fondation Giacometti, Paris © 2018 Alberto Giacometti Estate/Licensed by VAGA and ARS, New York. 
Giacometti's genuine subjects are bodily pain and endurance. The artist requires absolute stillness from his sitters, sometimes for five hours at a stretch, in a working mode whose fierceness seems to become an integral part of the final artwork, as he searches for something beyond physical matter. The film discloses that he feels the eyes to be the only aspect of the model that truly speaks of reality and are as such the dominating part of the subject's personality. The artist seeks something well beyond a resemblance; he is after universality common to all humankind. This universality comprises the need in life to endure pain and suffering, but to bear it as part of the higher
plan. Some believe that our human spirits are honed by hardship in readiness to meet our maker in life's non-physical phase of existence.
Left: Alberto Giacometti – Spoon Woman (Femme cuillère), 1926 (cast 1954). Bronze, 143.8 x 51.4 x 21.6 cm. Solomon R. Guggenheim Museum, New York © 2017 Artists Rights Society (ARS), New York/ADAGP/FAAG, Paris/ Right: Alberto Giacometti – Head of a Woman (Flora Mayo) (Tête de femme [Flora Mayo]), 1926. Painted plaster, 31.2 × 23.2 × 8.4 cm. Fondation Giacometti, Paris © 2018 Alberto Giacometti Estate/Licensed by VAGA and ARS, New York.
Giacometti puts his materials, his clay, through tremendous paces (as seen in the film) by reworking and remodeling the shapes and contours, cutting repeatedly into the grooves and curves to make the energetic marks reach deep into the soft clay to bring the forms to their essence. He impersonates God in his studio, capturing in the expressions of his models' faces the aches and physical tension of endurance that sharpen and strengthen the spirit. Often the discomfort that the models' features exude supersedes the appearance of their physical traits, so that all his models have a similar attitude and energetic dispersion of their pain and perseverance.
Giacometti reproduces the sculptural stance of the Egyptian god kings by melding his statues' legs and feet into one form, infusing an aura of the divine in his standing figures. He prepares his material, reworking his sculptures, as one can perhaps imagine the priests within the innermost chamber of the
pyramids prepared the pharaoh's body for its ultimate transcendence to the afterlife.
Right: Alberto Giacometti, Dog (1951, cast 1957), Bronze, 18 x 39 x 6 1/8″. Collection MoMA, A. Conger Goodyear Fund, 120.1958. Copyright © 2018 Artists Rights Society (ARS), New York / ADAGP, Paris. 
The artist's connection with the Existentialists (he was a friend of Jean Paul Sartre) brought a heightened awareness that humans exist on the edge of belief, shifting from being into a lack of being, or a void of nothingness. He sought in his work to counter this void by extracting from his model the essential battered, shattered individual spirit, refashioning it in clay to its tormented but new form.
Below: Alberto Giacometti installation at New York's Solomon R. Guggenheim Museum.
The exhibition is admirably curated, providing spare informative wall texts that do not convey overly esoteric content. It is focused, clear and comprehensible to the informed public at large, placing this art in a transparent context. The show brings to light the surprising information that this humble individual believed he was never able to accurately achieve his intensions in his work. To consider "deconstructing" an artist of such a specific and personal focus would be not only inflated, it would be an act of undue hubris. This exhibition demonstrates the authentic expressions of a totally honest, profoundly driven 20th century icon of anxiety and truth.
By Mary Hrbacek, Contributing Writer
Solomon Guggenheim Museum: "Giacometti"
1071 5th Avenue, New York City
Through 9/12, 2018