Yangyang Pan, who was born in 1976, spent the first 30 years of her life in Central China where the meanderings of the Yangtze River, traditional Chinese art and art education shaped her thinking. She even taught art where she studied, at the Sichuan Fine Art Institute, but never realized her full potential as a painter until she moved west to Canada in 2006. At that time, Pan quickly found new inspiration in the work of Willem de Kooning, Joan Mitchell and Philip Guston, opening up her eyes, mind and emotions through the freedom of Abstract Expressionism.
When one arrives late to the approach of the Abstract Expressionist it is difficult to find a fresh path. However, Pan's personal journey through traditional Chinese painting and her memory of the changing seasons in China, especially spring, brings her to where she is today – an exceptional instinctive and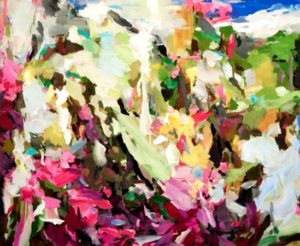 expressive painter.
Right: Inspired Bright, 2017-18, Oil on linen, 60 x 72 in.
In her paintings here, which are for the most part inspired by floral gardens, Pan reveals a highly sensitive understanding of the vitality of nature. And, despite the fact that Pan works in multiple layers of increasingly thicker and thicker paint applications she manages to maintain an airiness, a lightless, a weightlessness to her representations of shapes and colors that end up being quite buoyant and uplifting. Pan even suggests this in one of her titles, In Between the Blossoms (2018), a painting that is anchored by an earthen base that propels a distinct vertical movement within a square picture plane. In addition, the fracturing of the forms depicted in this instance is a nod to Cubism, as if Pan is asking us to enter the painting passing through the
vagaries of limitless space as we bounce from one angle or vantage point to another.
Left: The artist, Yangyang Pan, with her work.
Be the Good (2018) has a very different feel. Like On a Quest (2018), it has the suggestion of lateral movement, as if we are experiencing the light, color and forms of nature's spring bounty peripherally. This is important since springtime brings us renewal, even though we may take it for granted, and Pan is reminding us how it unconsciously feeds our soul. Spring is a time when there is a transitioning from the somber grays and browns to enlivening color, when the natural environment starts to come alive again and hope is renewed. Sure, it's a cliché for sure, but we still feel it, even amongst the most hardened and sour souls.
Right: Be The Good, 2018, Oil on linen, 36 x 60 in.
Dream Land (2018) is aptly named as it has the most Surreal feel of all the paintings here with its twisting pinks and pastel greens and blues that lead to its magical depth. In Perpetual Bliss (2017-18) you can see a link to De Kooning's Woman I (1950-52), while in Whispering Wind (2018) there's that deconstructed space akin to a late Cezanne landscape or townscape. Similarly, in Inspired Bright (2017-18), there's a very strange way the composition vacillates between representation and abstraction – something like a waking dream – as that distinct slice of blue sky and clouds in the top right quickly makes way to transitions in space that are rapid and unpredictable.
By D. Dominick Lombardi, Contributing Editor
Yangyang Pan: The Unveiling, will be on display until June 2, 2018 at Madelyn Jordon Fine Art, 37 Popham Rd, Scarsdale, NY. It's the perfect show to get yourself in the right state of mind now that the beauty of the warmer season has finally arrived.