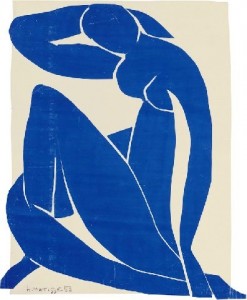 During the busy holiday season The Museum of Modern Art is featuring the blockbuster exhibition of the artist's triumphant and inventive last works Henri Matisse: The Cutouts. The exhibition drew some 500,000 visitors last summer to London's Tate Modern.
To control the flow of visitors through the New York exhibition, tickets are issued for specific dates and time.
Above:

Blue Nude III (Nu Bleu III), spring 1952, gouache on paper, cut and pasted, on paper, mounted on canvas,

44 1/8 x 28 15/16″. Musée national d'art moderne/Centre de création industrielle, Centre Georges

Pompidou, Paris. Purchase, 1982.
The often enormously scaled works with brightly colored paper collage are both joyous and fresh as well as fragile and ephemeral. A major panorama that once adorned his dining room in Nice "The Swimming Pool" has undergone several years of restoration and is again displayed, carefully, at MoMA, which owns it. xxxxxx (more…)